Happy Monday everyone! I thought I'd kick the week off with these too-cute-for-words birthday party invitations from the ladies of Vellum & Vogue! Inspired by vintage fabric, the suite features a wood engraved invitation that evokes heat branding, wood tags with the image of a cowboy, and burlap ribbon. So fun!
From Alana + Krystal of Vellum & Vogue: Dana came to us looking for a unique and festive invitation for her son's 2nd birthday. The overall theme of the party was inspired by a vintage rodeo fabric she fell in love with. Once we laid our eyes on the unique textile, we knew we had to incorporate it into the invitation.
We decided to create a custom fabric backer for the invitation, which highlighted one of the many rodeo-inspired vignettes found within the fabric. To complement the Western theme, we engraved the invitation design onto a solid cedar wood stock and kept the burn markings to mimic the look of heat branding. We then wrapped the invitation in a wide burlap-style ribbon and finished the look with small wood tags bearing the image of a cowboy.  
Each invitation was packaged in a kraft box, sealed with a wraparound address label and mailed with Western-inspired postage.
Thanks Alana + Krystal!
Photo Credits: Vellum & Vogue
As you know, we celebrated Sophie's first birthday last month! We threw a little birthday party for her, with family and a few close friends. Given the roller coaster of the last few months, it was so nice to spend a beautiful afternoon with some of our favorite people to celebrate making it through the first year!
First, the invitations! Sophie is completely fascinated with balloons, so we knew that we wanted to bring them into her birthday party. I told Catherine from Printerette Press that we wanted something joyful and colorful and she dreamed up this amazing five-color design with her unique hand lettering for the text. My dear friend Michele of Meant to Be Calligraphy addressed the envelopes in neon pink ink in her Jackson script. I love the invitations SO much!
We chose one of our favorite hidden spots in DC, Montrose Park in Georgetown, as the venue for Sophie's party. It has lots of picnic tables and a big playground with swings, all of which was perfect for our needs. Sophie's cousins came down from upstate New York for the party and had such a great time running around the playground, while the adults could chill out under the trees.
We wanted the party decorations to be really bright and colorful, with lots of balloons, honeycombs, and garlands. My friend Kelly sent over some of her balloon honeycombs, which went perfectly with our balloon inspiration. I also made a bunch of tassels out hot pink, peach, and gold yarn, and spray painted a birthday banner in shades of hot pink, coral, and lavender.
We served a mix of sandwiches from one of our favorites, Taylor Gourmet, along with cupcakes from The Sweet Lobby. My Dad took a few photos of Sophie enjoying her birthday cupcake! I chose red velvet for her, which she loved.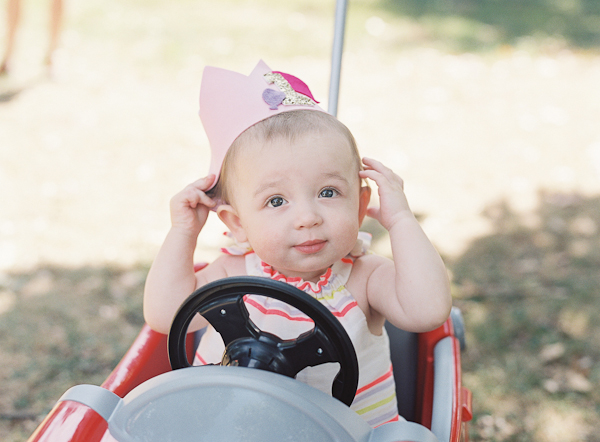 Kelly also made Sophie a birthday crown! She wouldn't keep it on for more than a few minutes, but it was completely adorable while it lasted.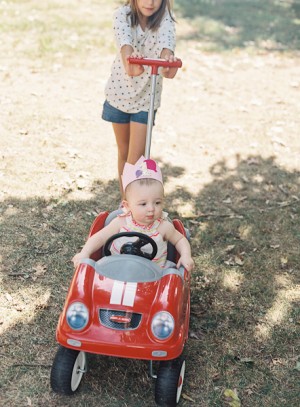 Photo Credits: Vicki Grafton Photography, except where noted
Happy September everyone! I hope you had a nice holiday weekend! I take such delight in watching my friends grow their families, and my friend Lisa from Good on Paper has two of the most adorable little boys. Her younger son, Theo, is just a month older than Sophie! For Theo's first birthday party invitations, Lisa created an adorable mini flip book full of cute photos of a happy and smiling Theo. Such a great idea!
From Lisa: Plans for Theo's 1st birthday party came together rather quickly. A super mellow second child, Theo did not seem to mind at all. In fact, he is smiley and happy about 85% of the time so I decided to make "smiles and saying cheese" the theme of his party. I took a bunch of photos one day while he was eating (his favorite thing to do) and turned them into a mini flip book. They were mailed out in gray envelopes with custom liners.
Thanks so much Lisa!
p.s. You can see Theo's birth announcements here and the birthday party invitations for Theo's big brother, Lucas, right here: one, two, three!
Good on Paper is a member of the Designer Rolodex – you can check out more of Lisa's work right here or visit the real invi­ta­tions gallery for more wedding invitation ideas!
Photo Credits: Good on Paper
These neon Bat Mitzvah invitations from designer Alexandra Bisono are just so much fun… I couldn't resist them! The invitations reflect the "glow" theme for the reception following the ceremony, with a layer of glow sticks at the bottom of each hand-delivered box – and of course lots of bright neon. The rsvp card is my favorite part of the invitation suite; I love that Alexandra included a space for a hand written note below each response type. Such a nice detail in an age when teenagers are glued to their cell phones!
From Alexandra: This client wanted a very memorable invitation for her "glow" theme Bat Mitzvah. The idea was for each guest to receive a hand delivered box that, once opened, would glow from the inside. This was achieved with a few dozen glow sticks attached to the bottom of the box. Inside the box guests also found their RSVP cards to fill out with custom neon pens.
Thanks Alexandra!
Design: Alexandra Bisono
Printing + Production: Prestone Printing
Photo Credits: Alexandra Bisono
These first birthday party invitations from Leslie of Lilly & Louise are so darling! The accordion fold invitations celebrate all of the wonderful first experiences in Zavier's first year, from his first word to first book, along with an adorable bowtie theme perfect for a sweet little man. The sunny blue and yellow color palette completes the design!
From Leslie: As anyone who has ever been to a first birthday party knows, the party is not only to celebrate baby's first year, but also to celebrate that mom and dad made it through the first year of parenthood. We created a colorful, four-panel accordion folding invitation for Zavier's first birthday party inspired by bowties and new experiences.
As the panels unfold they reveal details such as hand lettering, a list of sweet firsts that Zavier experienced during his first year (first book, first food, first word), and hand-drawn bowties for this little man.
The design was letterpress printed with three colors: teal, gray, and bright yellow. We used a bold teal and white chevron envelope liner against a lemony yellow outer envelope.
Thanks Leslie!
Design: Lilly & Louise
Letterpress Printing: Lumino Press
Lilly & Louise is a member of the Designer Rolodex – you can check out more of her beautiful work right here!
Photo Credits: Cara Robbins