Any leap day babies out there? Or anyone WITH leap day babies of their own? Well, this one is for you! Lauren at Darling + Pearl just happens to have a leap day baby, and they're super excited to celebrate this year! Lauren put together these really cute monster-themed leap day birthday party invitations, and because she's a letterpress printer she just had to give herself a little extra challenge in the printing department. So cute!
From Lauren: Here's a project that is SO close to my heart. Not too many people care about, much less celebrate, leap day, BUT it's my son's birthday! And we've waited so impatiently for FOUR YEARS to see it on the calendar!
These invitations were mixed media- one color letterpress printed in black and flat printed full color details on 110lb fluorescent white cotton stock. I wasn't exactly sure what I was signing on for with registration this tight, but the best times to push the envelope is on personal projects and I can't stop staring at them!
Declan is kind of obsessed with his stuffed animal entourage at the moment – some of them being dinosaurs (his 3rd birthday theme) and monsters – so when it came time to decide on a birthday theme, like 2 weeks ago, (hah! things are more and more lax at the years go on, and children multiply – am I right?) monsters for a monstrous leap day celebration seemed to fit the ticket.
I used kraft envelopes, since I generally like to keep it neutral, and ribbed metallic green fine paper envelope liners. AND vintage stamps! In the meantime I also created a little art print that we can hang in his room, one to share with his leap day buddy, Charlotte, and obviously one to hang in my print studio.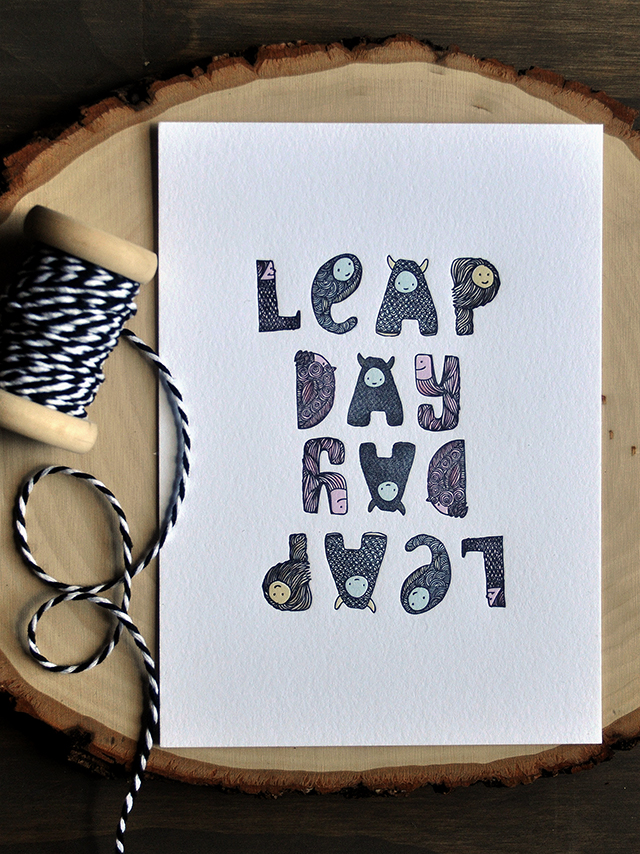 Thanks Lauren!
Darling + Pearl is a member of the Designer Rolodex – you can see more of Lauren's beautiful work right here!
Photo Credits: Darling + Pearl