Happy Friday everyone! Â We're about halfway through the coverage from this year's National Stationery Show, and after looking back through all of the photos from the show I can't believe what we managed to pack into just a few short days. Â So much beautiful stationery! Â First up today, a new-to-me exhibitor from the Pacific Northwest, Bison Bookbinding and Letterpress. Â I'm absolutely smitten with Bison's collection of hand lettered note cards and brightly colored geometric letterpress notebooks.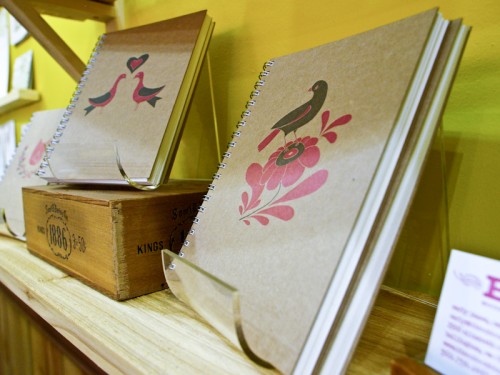 Bison Bookbinding and Letterpress
After somehow missing them last year, I was absolutely determined to visit the Gold Teeth Brooklyn booth this time around. Â This simple-yet-vibrant collection of screen printed note cards and art prints is incredibly refreshing, and was accompanied by a sweet and simple booth design that really let the cards shine.
Another new exhibitor that made a big impression – Lucky Bird, who came to New York all the way over from the United Kingdom.  Lucky Bird's collection includes some seriously adorable foil blocked illustrated note cards and gift tags.
I'm seriously loving all the new patterns and colorways in the SusyJack* collection this year. Â The blue and yellow ikat patterns? Â Love it! Â And the flower pattern for the 2012 calendars is so lovely…
From Ink + Wit this year, some new rubber stamp sets, wood veneer notebooks, and gift wrap – and of course lovely notecards all featuring Tara's signature modern nature-inspired illustrations and patterns.
It was such a pleasure to finally meet Rebekah from Wild Ink Press after admiring her work from afar for so long!  Rebecca had one of the prettiest booth displays at the show, with gold logo signs on top of gray chalkboard paint along with a hand drawn chalk border and illustrations – a perfect complement to her beautiful letterpress cards.
Another big Stationery Show debut this year – OneCanoeTwo!  This booth was packed full of awesome letterpress goodies, from greeting cards to a monthly calendar to art prints.  And don't let the black and white walls fool you; this booth was absolutely packed full of color!
I was also seriously loving The Great Lakes booth this year – from the sweet and funny cards to the most adorable mobiles featuring wood acorns and dip dyed feathers.
Love these acorn and dipped feather mobiles!
Last (for now) but definitely not least, Sesame Letterpress. Â Those crosshatch pattern silhouette greeting cards and silhouette note cards are totally calling my name…
Photo Credits: Bison Bookbinding, The Great Lakes, One Canoe Two, and Sesame Letterpress by me, all others by Brian Tropiano Photography for Oh So Beautiful Paper; please ask permission before reposting.
*Wild Ink Press is a spon­sor of Oh So Beau­ti­ful Paper; for more on my edito­r­ial poli­cies please click here.