I'm back with more goodies from the 2011 National Stationery Show! Â Are you all enjoying the recaps from this year's show as much as I'm enjoying putting them together? Â I hope so, because there's still a lot more to come! Â Toronto-based Pantry Press made a return to the Stationery Show after a 7-year absence, and I was thrilled to see their beautiful letterpress work up close.
Loving this collaboration of letterpress imprintable invitations and note cards featuring Lena Corwin's artwork
Dear Hancock displayed the most adorable collection of illustrated note cards and art prints – from sweet Father's Day cards to thank you cards to an adorable papel picado love note card that was my particular favorite.
Hammerpress is another perennial show favorite; I always love the layered colors and delicate letterpress texture in their card and calendar designs. Â I'm super excited to see the tear-away wall calendars making a return this year along with lots of other new designs!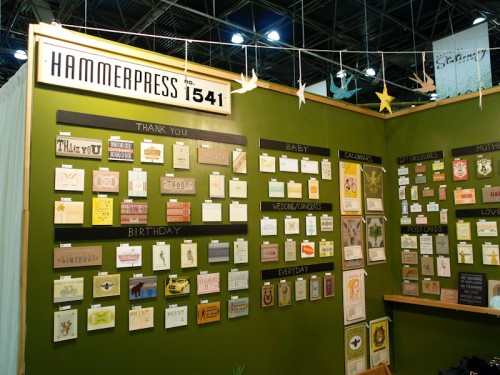 Artist Leah Duncan wasn't technically at the Stationery Show – but I couldn't resist including her in these round ups.  Leah exhibited at an art licensing show called Surtex, where she displayed her illustrated patterns and collaborative projects.
How awesome are the Keds with Leah's illustrations?! Â I want a pair!
Another cute project – fabric business card holders
The Sweet Bella booth was chock full of awesome office stationery, from notebooks to washi tape, along with bright note cards and travel-inspired post cards.
Love message bottles!
The fabric calendar actually unravels – so cool!
For those of you with a slightly more sarcastic sense of humor, you'll adore the cards from Walk Up Press. Â I'm also loving the customizable letterpress prints and less snarky love note cards.
How cute are those letterpress lunch bags?! Â And I'm loving the personalized letterpress prints as a wedding or engagement keepsake, or even as an alternative guest book.
Check back tomorrow for more from the 2011 National Stationery Show!
Photo Credits: Nole Garey for Oh So Beautiful Paper