A bit of dark and moody stationery inspiration is kind of perfect for winter, don't you think? Embrace the coziness of shorter winter days and the sparkle of the holiday season with some romantic black, white, and gold calligraphed stationery inspiration from Kristin at Lustre Theory – featuring the gorgeous calligraphy of Seniman Calligraphy and dreamy handmade paper from Fringe & Rose. You'll find a few of my favorite things in this inspirational suite, from beautiful gold wax to a moody floral envelope liner and shimmery gold ink on black envelopes. So pretty!
From Kristin: I wanted to create stationery inspiration that was dark and whimsical but still had romantic tones to it. Almost gothic in style. The styling of this suite was very important to give it those mysterious moody vibes. I used black linen fabric for the background but chose an off white cheese cloth to add texture and help the black paper pieces stand out more.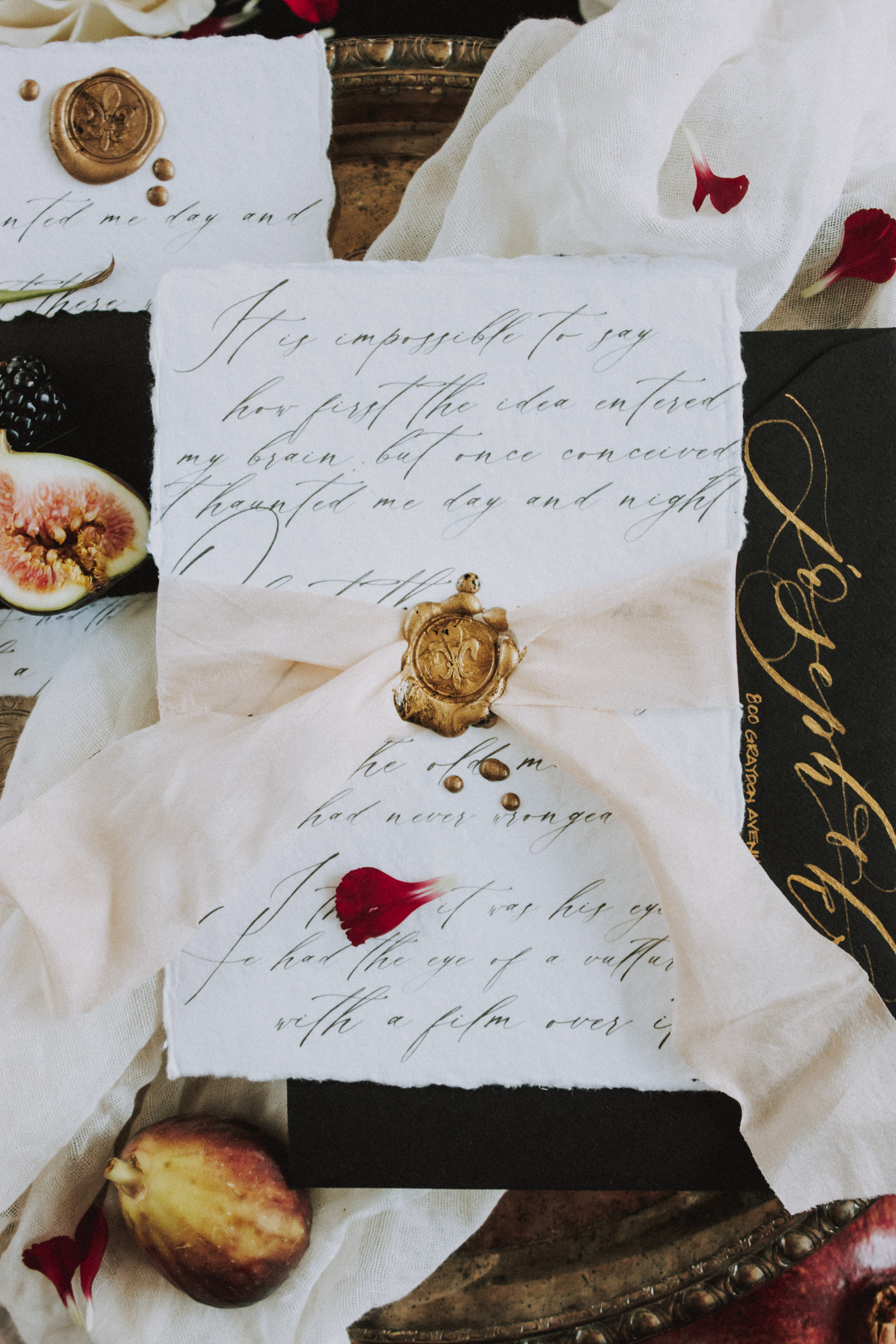 The cotton rag paper is handmade by Fringe and Rose. I chose this particular paper because of its loose uneven edges and textured surface. The wax seals are messier than you might normally see, with drops and dribbles. I just let the wax burn right off the stick and drip directly onto the paper and ribbon, creating those black flecks you see in the gold.
If you look close enough you'll see the script text on the cotton paper pieces is a quote from "The Tell-Tale Heart" By Edgar Allan Poe – because, details!
"It is impossible to say how first the idea entered my brain; but once conceived, it haunted me day and night. Object there was none. Passion there was none. I loved the old man. He had never wronged me. He had never given me insult. For his gold I had no desire. I think it was his eye! yes, it was this! He had the eye of a vulture –a pale blue eye, with a film over it. Whenever it fell upon me, my blood ran cold; and so by degrees –very gradually –I made up my mind to take the life of the old man, and thus rid myself of the eye forever."
The Tell-Tale Heart – By Edgar Allan Poe