Thanksgiving is just around the corner! Are you hosting this year? What about Friendsgiving? We always go up to my in-laws for Thanksgiving, but I have dreams of hosting my entire family someday. And now that my kids are a bit older, we might even be able to pull off hosting a small Friendsgiving gathering! Today I'm teaming up with Wheatley Vodka and a few seriously talented DC-area creatives to dream up my ideal cozy Friendsgiving celebration. And in addition to table inspiration, we're sharing printable stationery and a couple of holiday cocktail recipes that you can make this holiday season!
I imagine an informal potluck style dinner with cozy candles, delicious cocktails, and of course some of our closest friends for company. And whether I'm planning a birthday party or a small dinner gathering, I always start by choosing the color palette. Neutrals are perfect any time of year, but I also brought in a few seasonal pops of color like burgundy, rust, and mustard yellow in the flowers and a few of the details. So cozy and welcoming!
The table settings are pretty simple, which is perfect for an informal gathering. Light gray ceramic plates, woven placemats for texture, some of our favorite glassware, and a couple of vintage brass candlesticks. Lori and Colleen from Wld Wst, a local floral design studio here in the DC area, made the most beautiful fall floral arrangement for our table. I also made a few DIY pom-poms in our fall color palette and wrapped them around knotted dinner napkins in mismatched colors (we used white, light blue, and pink). One of these days I'll learn how to properly fold a napkin, but for now I'm really liking the napkins this way!
You know we're all about the signature cocktail, and the holidays are no exception. Wheatley Vodka is made by the same folks behind Buffalo Trace Distillery, which has been making bourbon whiskey along the banks of the Kentucky River for more than 200 years. That's more than two centuries of spirit-making knowledge! Wheatley Vodka is crafted in small batches using a one of a kind micro-still, using the same red winter wheat grain used for Weller and Pappy Van Winkle bourbons. The red winter wheat grain gives Wheatley Vodka a smooth, delicate finish that is pure and crisp on the nose, with hints of soft vanilla. It's pretty much perfect for crafting holiday cocktails!
We made two holiday cocktail recipes with Wheatley Vodka for this Friendsgiving celebration: a bright and fizzy take on the classic French 75 (served in the coupe glass above and garnished with fresh herbs) and a winter punch that you can make in a huge batch for larger gatherings!
Cocktail illustration by Bright Room Studio
Wheatley 75
2 oz Wheatley Vodka
1 oz Lemon Juice
1/2 oz Simple Syrup
1/2 oz Orange Liqueur
1/4 oz Aquavit
Shake the ingredients in a cocktail shaker and strain into a coupe glass. Top with sparkling wine and garnish with a sprig of rosemary or thyme. Enjoy!
The Wheatley 75 is bright, effervescent, and a little bit tart – absolutely perfect for this season! If you're making this cocktail for a group of people, you can even mix up 2-3 at a time in your cocktail shaker, then just top with sparkling wine in the glass. We used prosecco, but any sparkling wine should work!
Cocktail illustration by Bright Room Studio
Spiced Winter Punch
1 bottle Wheatley Vodka
1 bottle Apple Cider (about 64 oz)
3 cups Lemon Juice
1 1/2 cups Cinnamon Syrup
1 1/2 cups Orange Liqueur
6 oz Allspice Dram
48 dashes Cardamom Bitters
Combine all the ingredients in a punch bowl and fill with ice and citrus slices. Serve in punch glasses and garnish with seasonal herbs or a cinnamon stick. Enjoy!
We've gotten so many requests over the years for an easy winter punch, and I'm beyond thrilled with how this recipe turned out! It's basically all of my favorite fall flavors in one cocktail. Feel free to adjust the quantities depending on how many people you're expecting – this recipe will definitely fill up a punch bowl, so cut the ingredients in half if you're expecting a smaller gathering.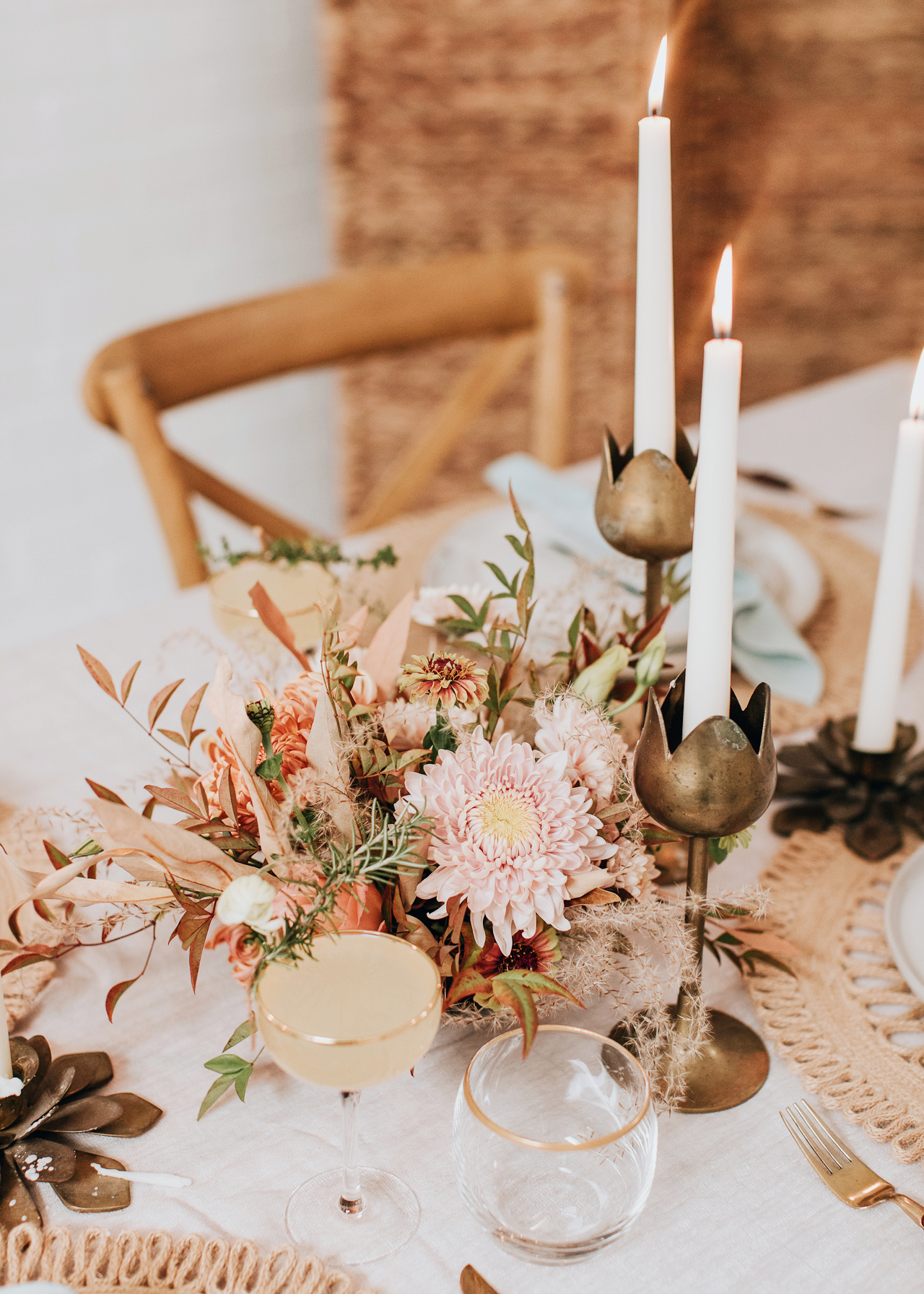 Another favorite party tip: I always a drink station where friends and family can gather and chat before sitting down for dinner. All you need is a big punch bowl filled with spiced winter punch, a cheese board for snacking, and a floral arrangement – or a vase filled with eucalyptus or foraged greenery. A little bit of greenery can go a long way and helps to balance bottles or punch bowls on the other side of the credenza.
Lindsey from Bare Ink Co. created these absolutely stunning invitations for our Friendsgiving. I love the way Lindsey's lettering feels both a bit fancy but also relaxed and informal – perfect for a Friendsgiving potluck!
Lindsey also made food and drink menus and the sweetest little conversation cards that you can place on each plate in lieu of place cards! I'm so excited to offer the menus and conversation cards as a printable download for all of you. Just download the files at the bottom of this post, print on regular letter-sized card stock, then cut out around the black outline! You can add your own text in Adobe programs if you have them, or just drop the entire file into Word. Easy peasy. We printed our menus on both vellum and card stock, and it's absolutely impossible for me to pick a favorite!
We also personalized the invitations and menus with a single brushstroke of dark green paint on the left hand side. It makes every invitation and menu feel personalized, and it's such an easy way to bring more of your color palette into your stationery!
I know the food is the heart of the holiday season, but it's definitely more our style to make a signature drink or two instead of a traditional Thanksgiving dish. I love the idea of giving your guests drink menus instead of food menus at a holiday gathering – especially if you're doing a potluck style dinner! We placed our drink menus right on the plate so guests could keep them as a reference while trying the different cocktails.
And seriously, how cute are these little conversation cards? You can download them through the links at the bottom of the post! We placed them on custom engraved wood coasters by Michele from Meant to Be Calligraphy. Michele also engraved one of the Wheatley Vodka bottles with the word "gather" and I can't think of a better sentiment for this upcoming holiday season.
I hope you all have a wonderful Friendsgiving weekend and Thanksgiving holiday! If you make any of our holiday cocktail recipes, please be sure to tag @beautifulpaper and @wheatleyvodka on Instagram so we can see how they turn out!
Creative Direction and Styling: Nole Garey of Oh So Beautiful Paper
Prop Styling: Joanna Carden
Stationery and Calligraphy: Lindsey Swink of Bare Ink Co.
Cocktail Recipes and Vintage Glassware: Liquorary
Florals: Lori Tran and Colleen Rogin-West of Wld West
Wood and Glass Engraving: Meant to Be Calligraphy
Cocktail Recipe Illustrations: Bright Room Studio
Venue: Common Room Studio
Photography: Lauren Louise Collective
This post was created in partnership with Wheatley Vodka. All content and opinions are my own. Thank you for supporting the sponsors that make Oh So Beautiful Paper possible!