Today I'm excited to kick off the tour of my brand new studio space, Common Room Studio, with a peek at our living room area! I use Common Room Studio to photograph all my own projects, but it's also a community space where we hold workshops, events, and can be rented out to other photographers in the area. You can sign up for our mailing list here to learn about upcoming events and follow the studio on Instagram! I'm hoping to add co-working sessions this summer, so the space has to serve a lot of different functions and be really durable. This is the first room that you see when you enter the studio, so I wanted something welcoming with a cute and quirky modern bohemian vibe. You can check out the design inspiration that I shared a few months ago right here, and here's how it all came together!
To refresh your memory, here's what the space first looked like, right when I first walked in the door and after we painted all the walls and cement floors a bright white. White cement floors are impossible to maintain, but they definitely brighten the space up a lot! For the living room area, we installed Yabara FLOR carpet tiles (in the stone color) to soften the room. I love the West African-inspired graphic pattern, which adds just the right amount of visual interest without being overwhelming.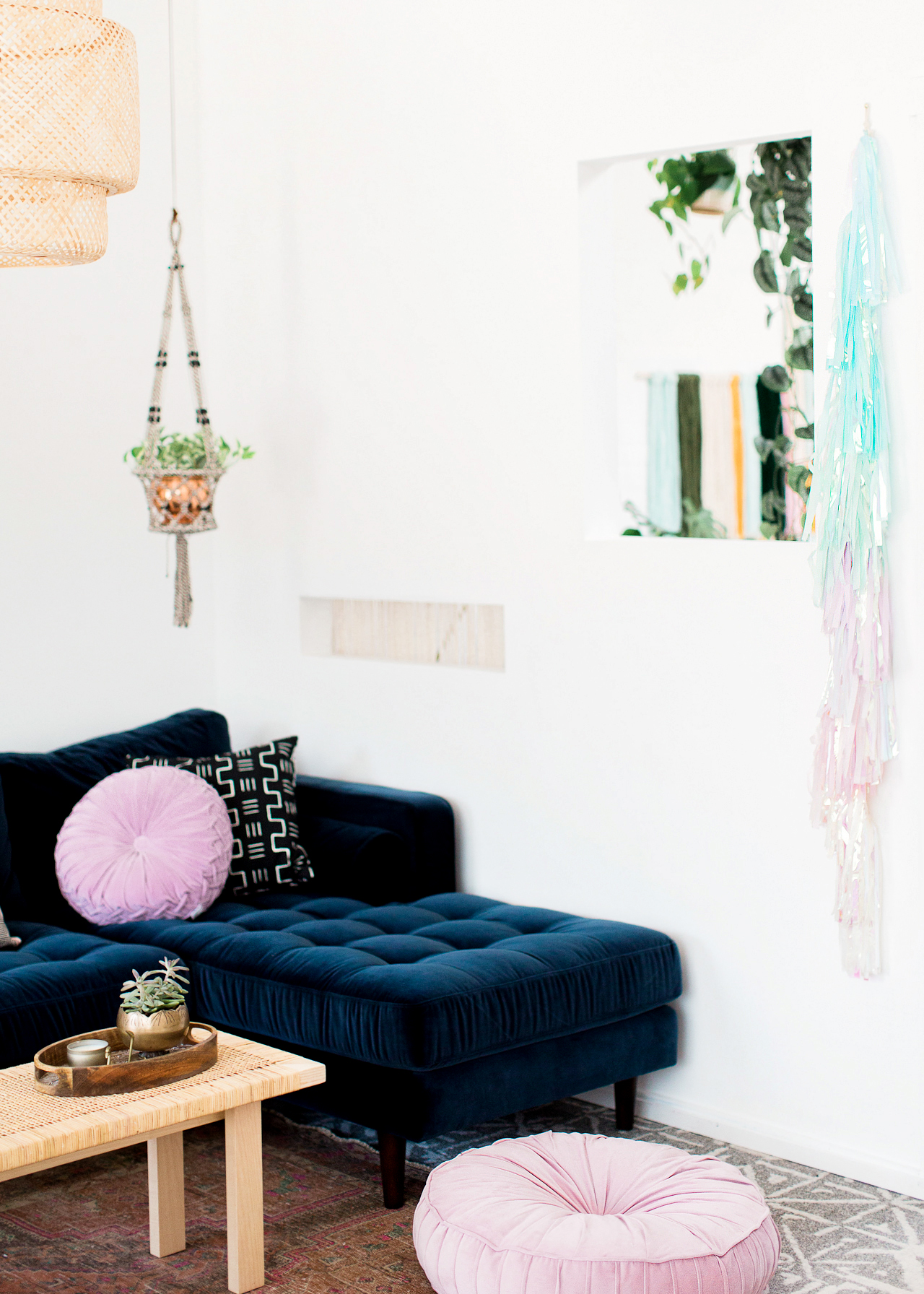 This room was just calling out for a sectional, so I'm beyond thrilled that Article graciously sent us their gorgeous Sven sectional in Cascadia blue! It really could not be more perfect for the room. I absolutely LOVE that deep blue velvet, and the darker color feels more easy to maintain in a shared space. Plus, the pop of deep blue is absolutely stunning against the neutral tones in the living room and provides the perfect anchor for the space. You can also see a little peek at our workshop space through the cutouts in the wall! Someday I'd love to take that (non load-bearing) wall out completely, but for now it's the perfect spot for a comfortable sectional sofa.
I surrounded the sectional with some of my favorite wall art from Secret Holiday Co., Rifle Paper Co., and Odd Daughter Paper, a macramé wall hanging, a vintage rug from eBay over our FLOR carpet tiles, and plenty of plants for extra texture.
I wanted almost everything in the studio to be able to move around and serve multiple purposes, so I brought in a few floor pillows and poufs that could serve as extra seating. We also have a few arm chairs throughout the studio (which you'll see a bit later), including this fun rattan chair that pulls closer to the sofa when needed.
On the other side of the room is my favorite photo shoot area. Technically the entire studio space is a photo studio, but the light in this corner is just SO good. It's perfect for setting up a tabletop shoot, portraits, or just about any natural light photography, and the large south-facing windows mean that we get continuous light from sunrise to sunset. It's absolutely dreamy.
My friend Michelle recommended adding lots of plants to soften the industrial vibe of the space, so I scooped up a bunch of houseplants from my local nurseries. We've lost a few along the way, but I've been pleasantly surprised that I've been able to keep these guys alive! The rex begonias and rubber plant are my faves.
Well, there you go! What do you think? I'll be sharing our workshop space and bathroom (with a CRAZY before and after) really soon! And if you're in the DC area, I'd love for you to stop by or come to one of our workshops or events really soon!
Sources: Sofa: Article Sven Sectional*, Carpet tiles: Yabara FLOR carpet tiles*, Rug: vintage, Coffee Table: Ikea, Rainbow print: Odd Daughter Paper Co., You Are Magic Wall Hanging: Secret Holiday Co., The World is Your Oyster Art Print: Rifle Paper Co., Daisie Rattan Chair: Grandinroad, Floor pillows and poufs: Target, Round pillow: Urban Outfitters, Winky Pillow: Urban Outfitters, Woven Pendant: Ikea
*Indicates a product we received in exchange for coverage in this post. All opinions are my own.
Photo Credits: Meghan Marie Photography