What an honor to share with you all this next stationery duo's journey. From Red Cap Cards, Carrie and Hal are here to share about the importance of pajamas, insight on working with illustrators and artists, and behind their new collaborative collection debuting at NYNOW in two short weeks! It's amazing to see how they changed their career paths and adjusted their vision, individually and together. —Megan
Hello! We are Carrie and Hal from Red Cap Cards. Our company is based out of Los Angeles, California. We are a stationery company that celebrates artists, creating a platform to share their work through beautifully designed paper products.
Our story began in 2005 when Hal and I decided we wanted to work together and create a lifestyle for ourselves that allowed us to be completely in charge of our own time. I think some people are just meant to work for themselves and that would be us. Hal and I both had different careers. He was running a coffee roasting business and I was a children's theatre director. Although we were passionate about these careers, we decided to take a leap of faith and start a creative business that was in line with the creative vision we had for our life. At the time, I was illustrating cards as a hobby and people loved them. We recognized the potential in the concept of bringing amazing art and illustration to the doorstep (quite literally) of the masses. So, in our tiny West Hollywood bungalow, Red Cap Cards was born.

Over time our company has evolved. In the beginning, I was the only illustrator and now we have over twenty different artists in our line—which is constantly evolving. We realized early on that we had loyal fan base and felt that this was ultimately the most valuable aspect of our business. So in 2007, we began collaborating with artists from all around the world. We started with a few artists that were friends of ours, and then we added more over time.
Photo (courtesy) of Kate Pugsley
All of the artists that we have worked with have ended up becoming friends and members of a tight-knit family that we cherish. Creating amazing products is a wonderful part of our business but being champions for the artists we work with is our favorite part of our job. They are some of the most talented artists out there, and we consider ourselves lucky to introduce their work to a new collective.
Hal and I have held true to our vision. We work from home and can pretty much do our job from anywhere, thanks to the magic of technology. We always start the day with coffee. This is an essential in our house! I'm typically in pajamas all day; this is the sad but awesome truth. Hal and I sit at one long desk in our office that we have had for 10 years. We also have an amazing team of writers and designers who all work from their own spaces, and this is by design. One thing Hal and I have never wanted to do was manage people. We never liked feeling micro-managed, and we believe that our business model is one that empowers people and leads to a richer quality of work. I love knowing almost everyone on our team is happy working from the studios that inspire them. The remote office is the only way to go for us! Pajamas for everyone!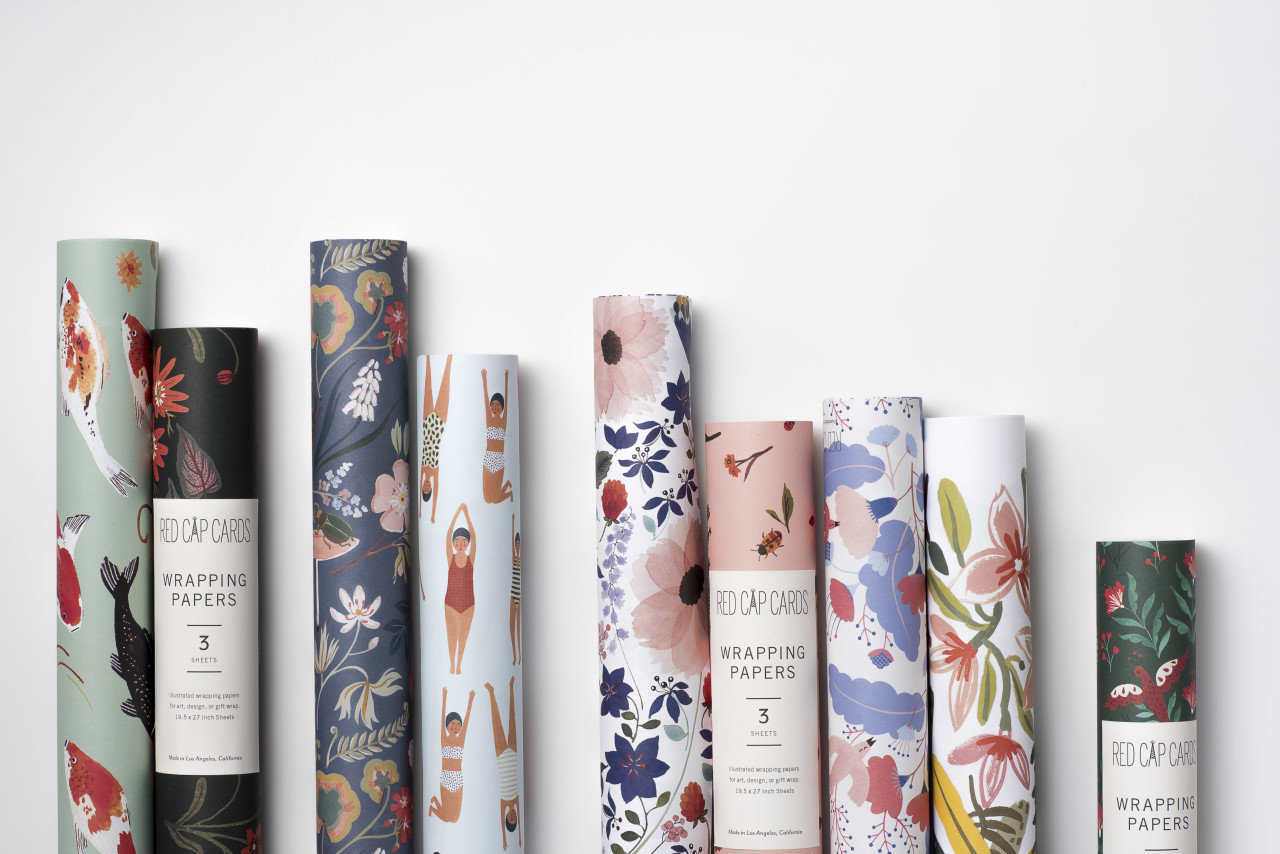 I retired from illustrating for Red Cap Cards in 2012 to take on the role as our creative director and collection curator. I spend most of my day working with our creative team, which consists of our artists, our amazing designer, Michelle, and Andie who writes our blog and helps with all things PR-related. Hal typically spends his day working with our logistics team which consists of Betsy, our wholesale manager and all around super star, Denise, who manages our warehouse in Minnesota, and Rich, who runs all of our print jobs here in Los Angeles.
Photo by Carolyn Gavin
When creating a collection for Red Cap I always begin with the illustrator. I think about the unique perspective that the individual artist will bring to our line. Each artist we work with has their own approach to their work, which means that each process is a little bit different. Some artists love direction and others, not so much. We always suggest that greeting card occasions help to inspire the narrative in our cards, but we try not to let those occasions limit our artists or box them in. We want our artists to create work that they love, which is communicated through a "free" artistic process. That's really important to us. Sometimes we have a general theme to help inspire a collection, and others times it's random and very organic.
Photo by Carolyn Gavin
I typically start the process by looking at their current body of work to help give them a general direction of what I feel would work on a card. Then we start a conversation about the kind of collection they'd like to create. The challenge in working with many different artists is creating a cohesive collection. Our goal is to curate a line that harmonizes together, but one that allows each card to stand independently on its own.
We use several different types of printing processes including offset and gold foil-stamping, and have a special collection of spot color Pantone® cards. All of our products are printed and manufactured right here in Los Angeles and are quality checked by our standards.
We show up at 9am for every press run and are there as our printers deliver the cards into our hands hot off the presses. We adore our pressmen, some of whom have been in the printing business for over thirty years!
We adjust colors until they are as close to perfect as we can get, which can be a difficult process. Certain colors are hard to print, and we want to get them just right! After our cards are printed, we send them to our awesome warehouse in Minnesota, which is another business run by a husband-and-wife team. We love them dearly! They do an amazing job.

Recently, seven of our artists came together to create our first line of coordinating wrapping paper, notebook and greeting card suites. I wanted this collection to be a stunning showcase of how well our artists work together while remaining completely true to their individual vision. In order to do this, I had our artists create color stories that they shared with one another. The idea was to allow the different color stories inspire each other's work.
This was a really fun way to for our artists to play with one another and create a collection that harmonized in color. I'm so happy with the end result. We really do work with some of the most talented artists in the world, and wouldn't trade it for anything. We hope that our labor of love comes through to the customers who buy our cards. This collection will be debuting at NYNOW on August 20th at the Crow & Canary booth!
Hal and I are beyond grateful to be living such a wonderful life surrounded by so many talented people. If you would have asked me when I was a kid if I would grow up to run a stationery company, I would have laughed. I love how life can surprise you. I'm excited about the unknown future of Red Cap and I feel so much gratitude for folks like Oh So Beautiful Paper who have supported us from day one. That means the world to us.
All photos taken by or for Red Cap Cards except where noted.
Interested in being featured in this column? Reach out to Megan at megan [at] ohsobeautifulpaper [dot] com for more details!