Sometimes, recipes work when they don't seem like they should. This is one of them: an Old Fashioned variation that combines oaky, dark bourbon and sweet, nutty orgeat syrup – an ingredient usually associated with summery Tiki drinks – that seems like it should be a sticky, sweet mess. But instead, it's a well-balanced drink that put together two unusual ingredients in a really innovative way. – Andrew
Attorney Privilege
2 oz Bourbon
1/2 oz Orgeat
2 dashes Angostura Bitters
Maraschino Cherry
Combine the bourbon, orgeat, and bitters in a mixing glass with ice and stir well. Strain into a chilled tumbler glass filled with fresh ice and garnish with the maraschino cherry. Enjoy!
The Attorney Privilege in on the sweet side, but not obnoxiously so. I expected a full half ounce of orgeat to overwhelm this recipe, but I was surprised by how smooth and drinkable and flavorful it turned out. The bourbon's complex notes of toffee and oak and lots of other things pair with the almond nuttiness of the orgeat in a drink that's warm and sip-able and very perfect for November.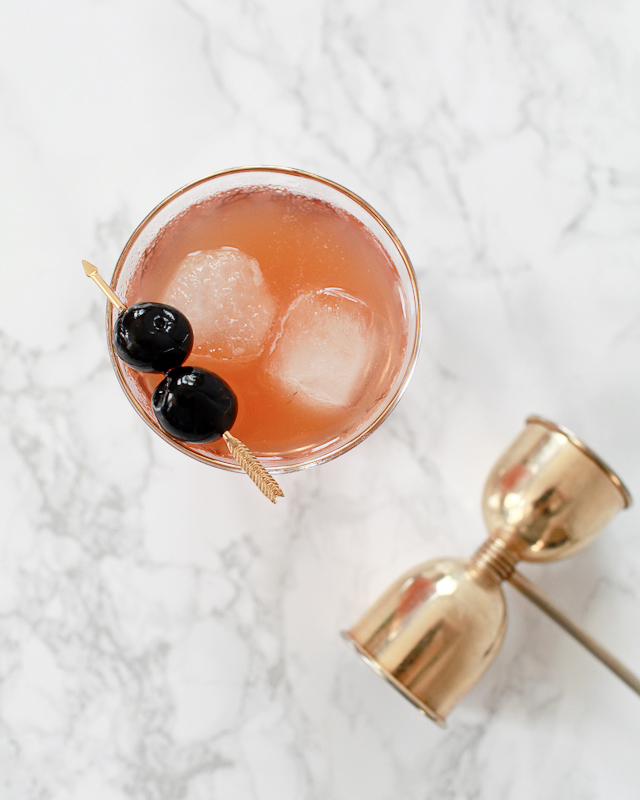 I found this recipe in Imbibe magazine while doing research on fall cocktails featuring orgeat. (Are you reading Imbibe? If you're interested at all in cocktails, you should be.) It's originally a recipe from Polite Provisions, a bar in San Diego. We usually try to put our own spin on the recipes we feature here, but this one was pretty much perfect just the way it is and such a revelation that I had to share it unaltered.
(Don't forget to follow us on Instagram, where we've been posting our experiments before they make their way onto this column!)
Glassware by Liquorary
Photo Credits: Nole Garey for Oh So Beautiful Paper