We spent the winter making winter drinks, and that meant lots of winter-appropriate spirits: bourbon, aged rums, apple brandy. Heavy and dark, they reflect the dark skies and offer the promise of warmth on a cold night. But it's spring now, which means we can forget a bit about cold nights and dark skies and look forward instead to cool mornings and warm afternoons and a whole new set of cocktails, lighter and crisper. And that means gin, starting with an amazing classic gin drink, the Clover Club. – Andrew
Illustration by Shauna Lynn for Oh So Beautiful Paper
The Clover Club
1 1/2 oz Dry Gin
3/4 oz Lemon Juice
1/2 oz Raspberry Syrup or Raspberry Jam
1/2 an Egg White
Combine all the ingredients in an empty shaker and shake hard to give it a thick froth. Then add ice and shake again. Strain into a chilled cocktail glass and enjoy!
Although the Clover Club dates all the way back to the turn of the last century, invented at a Philadelphia club of the same name, I only discovered it recently. I'm glad I finally did. It's a simple enough gin sour, thickened with egg white, but turns out to be a supremely well-balanced and flavorful drink. I can't quite put my finger on it, but the Clover Club has a distinctly old fashioned sensibility about it.
Any dry gin will do here, but we used St. George Spirits terroir gin in our Clover Club. Terroir loosely means "a sense of place" and is applied to spirits (or any other agricultural products) that embody the specific conditions of their places of origin. St. George meant their terroir gin to reflect the forests of California, and while I've never spent enough time in California to be able to say with any certainty that this gin really does reflect that sense of place, I can say that this is one of the most distinct gins I've ever had, with an unusual but delicious foresty taste. It's distinct enough that it can feel out of place in some classic recipes, but here it just adds to the Clover Club's character.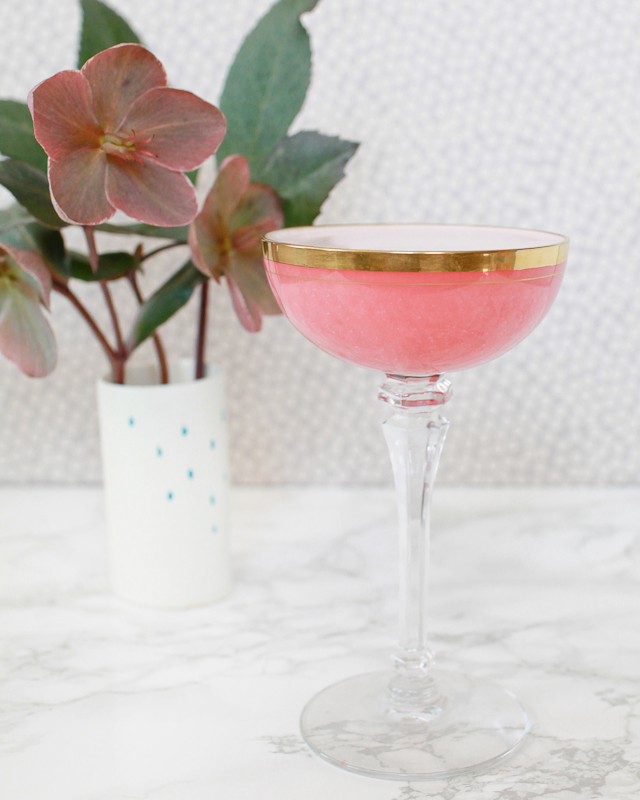 You can always omit the egg from any recipe that calls for one – eggs are all about texture, not flavor, in cocktails – but you'll be missing out if you do. The egg white acts as an emulsifier, giving the Clover Club a silky texture and a rich thick froth on top. It turns an ordinary gin sour into something a bit more substantial. But it also takes a bit of extra work in the form of a double shake. The recipe requires you to first shake everything without ice – a "dry shake" – and then again with ice – a "wet shake" – to build up that dense froth.
And while it really doesn't matter most of the time what the ice you're using in a shaker looks like, it makes a difference in a frothy drink like this. The first time I made this drink, I used the long skinny ice cubes my refrigerator dispenses. Big mistake. They basically created a tangle of ice that trapped most of the froth. The second time, I used some square ice cubes I made with my Cocktail Kingdom ice mold and everything came out beautifully. Lesson learned.
(Don't forget to follow us on Instagram, where we've been posting our experiments before they make their way onto this column!)
Photo Credits: Nole Garey for Oh So Beautiful Paper