I've lived in DC for more than 10 years, but we're always finding new things to see and do. Our newest discovery is the Kenilworth Park and Aquatic Gardens, a stunning oasis full of water lilies, gigantic lotus flowers, butterflies, frogs, and lots more – right in the middle of the city! It's such a beautiful way to spend an afternoon, so I thought I'd share a few photos.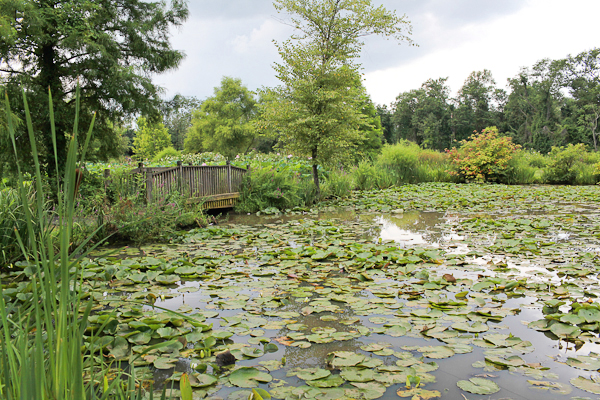 The Kenilworth Park and Aquatic Gardens is almost directly across the Anacostia River from the National Arboretum (another of our favorite DC spots). Fun trivia for you: The Arboretum is under the jurisdiction of the U.S. Department of Agriculture, while the Aquatic Gardens falls under the National Park Service. DC can be so weird! Anyway, we first heard about the Aquatic Gardens shortly after moving to Capitol Hill a few years ago, but we were suspicious because Kenilworth has a reputation for being one of DC's more rough neighborhoods. We finally ventured over on a rainy Sunday afternoon last weekend, and were absolutely amazed by what we saw…
Acres and acres of giant lotus flowers! And so tall! I can't even begin to describe these beauties. I was in complete awe.
We also saw lots of birds, frogs, turtles, dragonflies – and more butterflies than we could count! I did a little video on Instagram, which you can see here.
Our visit was pretty short – it started pouring down rain – so we mostly explored the ponds filled with lotus and water lilies, but there's also a long boardwalk through the park wetlands. We'll definitely be back again!
p.s. If you missed it last year, you can find the rest of my mini guide to DC right here!
Photo Credits: Nole Garey for Oh So Beautiful Paper