I always expect something creative and one-of-a-kind from designer Kristy Rice and her team at Momental Designs, and these burlap and watercolor save the dates are no exception! Kristy drew her inspiration from nature, combining hand painted watercolor with white engraved text, burlap, and kraft paper – with stunning results!
From Kristy: The concept for these save the dates was simple but the result; incredibly powerful. We started with the inspiration of rich natural textures, landscapes, and literature. Then we combined richly saturated hand painted watercolor textures with crisp and classic engraved lettering. Mingled with rustic touches of burlap and kraft cardstock, the look is a balance of contrasts and textures.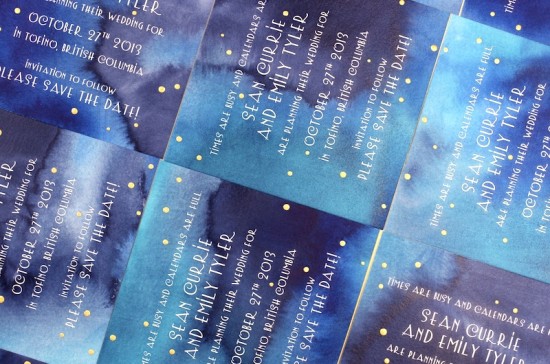 Kristy even sent over a few behind-the-scenes photos of the watercolor process!
So cool! Thanks Kristy!
Momental Designs is a member of the Designer Rolodex – you can see more of their beautiful work right here or visit the real invi­ta­tions gallery for more wedding invitation ideas!
Photo Credits: Momental Designs