I'm a huge fan of air mail-inspired details for weddings, from invitations to day-of details – and of course marriage announcements!  Designer Ramona Todoca designed these postcard-style announcements to share the happy news of her wedding with family and friends, then collaborated with Maggie from Campbell Raw Press to bring the four-color letterpress design to life.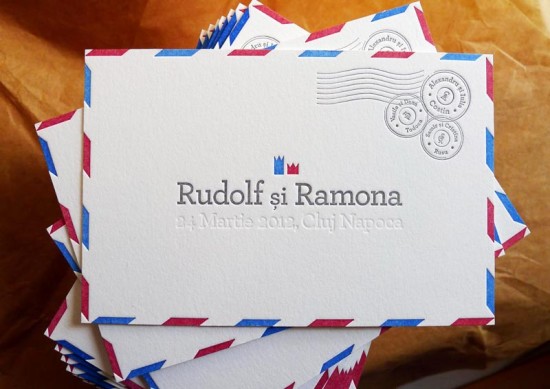 From Maggie: We recently collaborated with designer Ramona Todoca on these air mail inspired announcements for her wedding this past March in Cluj Napoca, Romania.  Ramona and her husband, Rudolf, have nurtured their relationship through an extensive snail mail correspondence between Hong Kong, New York City, and Romania, so the air mail theme suited Ramona and Rudolf perfectly.
The announcements are a postcard-style, one-sided design, printed in red, blue, gray, and one blind impression (no ink) on the double-thick version of Crane's bright white 100% cotton Lettra stock.  (Yes, that's four passes through the press!)
The results were marvelously simple, stylish, and personal.  We're also excited to be collaborating with Ramona on a new wedding invitation collection, including Ramona and Rudolf's air mail design, that we will begin to offer this coming fall!
Thanks Maggie!
Design: Ramona Todoca
Letterpress Printing: Campbell Raw Press
Campbell Raw Press is a member of the Designer Rolodex – you can see more of their beautiful work right here or visit the real invi­ta­tions gallery for more wedding invitation ideas!
Photo Credits: Campbell Raw Press