As promised, I've got a bit more from the National Stationery Show to share with you today!  Some of my favorite booths are those with a sense of humor, from the sweetly funny to the totally snarky.  So today I thought I'd focus in on a few of my favorite booths that combine fun and humor with gorgeous stationery design.  First up, Maginating with some of the most adorable designs you could possibly imagine and several of my all-time favorite cards!
Love the iridescent foil – one of FOUR foil passes on this specific card!
Nicole from The Nic Studio has a beautiful collection of illustrated cards that always seems to combine whimsy with a sense of fun and humor.  This year, I was completely blown away by Nicole's amazing new series of large full-color art prints called "Animals Everywhere" – inspired by her 3-year old daughter's imagination.  Gorgeous!
Amber from Flywheel Press always has something up her sleeve for the Stationery Show – from fun scavenger hunts to awesome letterpress greeting cards and wedding invitations.  This year I was particularly smitten with Amber's new collection of cards inspired by classic movie moments (so fantastic!) and gorgeous split fountain designs.
Beautiful split fountain cards!
Lisa from Sapling Press has the most amazing sense of humor – her "dear blank" and "we go together like" card collections keep me laughing for hours.  This year I can't get enough of her new card series of made up facts.  Genius!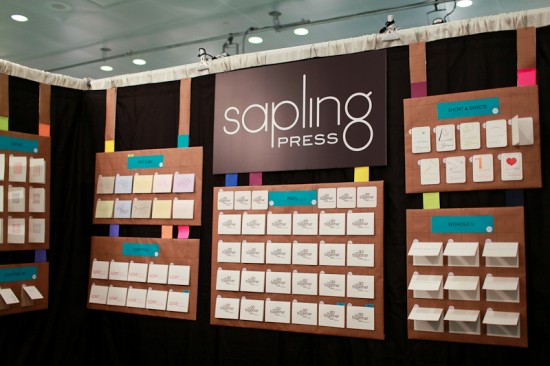 Lauren and Joel of Old Tom Foolery usually go for a minimalist black and white booth design, but this year they went all out with an INCREDIBLE wood booth designed by an architecture student friend.  So amazing – as are their hilarious cards!
I love the McBitterson's tagline of "Cute, Sometimes Cranky Letterpress Cards" – so perfect!  The cards might get a little cranky, but they always make me smile.
The team at Oddball Press always seems to find the perfect combination of sweetness and snark in their greeting cards – and I love the way they incorporate old timey illustrations into their designs.  So awesome!
I'm always excited to see the ladies of 9SpotMonk at trade shows.  They have a fantastic collection of color-in cards for kids that you might remember from the January Gift Fair, not to mention the hilarious thank you cards and letterpress beer and wine bottle gift tags below.
Check back tomorrow for more from the 2012 National Stationery Show!
Photo Credits: Stephen Michael Garey and Nole Garey for Oh So Beautiful Paper