Okay everyone, this time I need your advice and suggestions!
My nephew will be turning 13 in just a few short months and my sister is already preparing for his Bar Mitzvah this coming March.  They've asked for some help with the invitations.  The theme is "science fiction" – which is perfect for a 13 year-old boy, but gives me a bit of pause as a 20-something woman.  I'm thinking robots and spaceships as the main elements, with either a futuristic landscape or planets as accents.
I've started looking around for inspiration from other bar mitzvah invitations, but I'm not really seeing anything that's doing it for me right now.
These invitations from Bella Figura are beautiful, but a little too sophisticated for my nephew…

…and this one, even if very cute, is a bit too far on the young side.
So, right now I'm thinking something more along the lines of vintage sci-fi inspiration:

source

source

source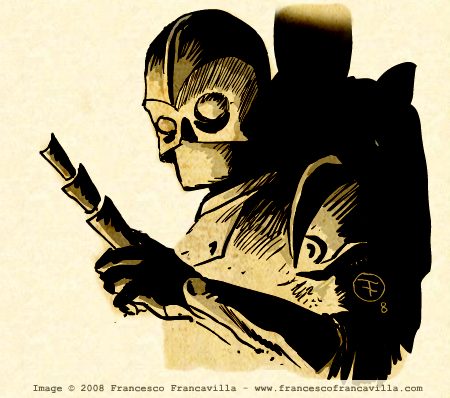 source

source
So what do you all think?  Anyone have any great sources for sci-fi inspiration that they want to share?  Is vintage science fiction too much for a teenage boy?  Comments are most welcome!
{images from their respective sources}