A wedding at the Rock & Roll Hall of Fame sounds like a lot of fun! Nina from Tweedle Press created a three panel foldout letterpress invitation inspired by vintage concert posters – the perfect fit for this unique wedding!
From Nina: Erica and Stephen had obviously set out to create a very unique wedding atmosphere, between bringing in elements of cultural heritage, a deep red and Tiffany blue color scheme, and of course having their wedding at the Rock & Roll Hall of Fame. Fitting then, for us to customize our Fame Dressed invitations for their wedding!
This three panel foldout invitation is perfect for couples who have a lot of information to convey; Erica and Stephen wanted to let their guests know about their ceremony, reception, welcome party, accommodations, transportation, and schedule of events.
Fame is definitely a design for the less-than-traditional couple, with an eye towards retro show posters. We used a deep impression on the front of the invitation as you can see in the closeup shots. The super thick cotton paper we use leaves enough room for a slight letterpress impression on the back, and we hand score and perforate the tear-out RSVP tickets to complete the package. Totally boss.
Thanks Nina!
Tweedle Press is a member of the Designer Rolodex – you can see more of their beautiful work right here or visit the real invi­ta­tions gallery for more wedding invitation ideas!
Photo Credits: Tru Studio
Ooooh, I'm loving the combination of green and coral in these vintage-inspired wedding invitations from our friends (and DIY contributors!) Bailey and Emma of Antiquaria. Inspired by the bride's love of Art Nouveau era posters and the idea of an outdoor garden party, the invitations feature hand lettering and illustrations of the couple's two dogs. So cute!
From Bailey and Emma: Abigail and Tim asked us to design an invitation suite for their wedding this past June. Abigail described the wedding as being a vintage garden theme using shades of green and coral. She wanted an invitation that looked like a vintage Art Nouveau poster and that incorporated her two beloved dogs, Nipper and Ginny. We took the challenge head on and designed a poster-like invitation that incorporated everything on her wish list.
The design itself included illustrations of her dogs and accents of hand lettering which helped make the design look vintage. The design really came to life once it was letterpress printed on cotton paper using coral and succulent green inks. In the end, the invitation suite included A6 save the dates, A9 invitations, 4bar reply cards, and a 4×6 hand illustrated map.
We carried the invitation theme through to the reception stationery including programs and thank you cards. Abigail has a love of books, so as favors for the guests we made little keepsake notebooks with an illustration of her dogs reading on the cover.
From the bride, Abigail: We are very much dog people and wanted to find a way to show our love for our pups while keeping the invitations elegant and within our vintage garden party theme. The attention to detail within the design really helped to personalize the invitation and we especially loved the map with the silhouettes of our dogs. Tim and I are both big readers and love to write, draw, and create. The notebook favors illustrated this side of us perfectly and looked gorgeous paired with Blackwing pencils (a favorite of famous composers and writers) on the tables with all the flowers.
Before the wedding I was thinking of not putting much effort into wedding invitations, but I am so glad I changed my mind because these are one of my favorite things from the wedding and will be a treasured keepsake for years to come.
Thanks ladies!
Anti­quaria is a mem­ber of the Designer Rolodex – you can see more of their beau­ti­ful work right here or visit the real wedding invitations gallery for more wedding invitation ideas!
Photo Credits: Antiquaria
Designer Kaydi from Maison Yellow and her husband welcomed their first child last October: an adorable baby boy named Becher! Kaydi wanted Beck's birth announcements to be bold and fun, so she chose a bright chartreuse and steel blue color palette and a cute illustrated envelope liner. Letterpress printing from Czar Press and a sweet baby photo were the perfect finishing touches!
From Kaydi: In October of last year my husband and I were blessed with our first child. No one can ever accurately explain to you just how crazy those first few weeks and months are. To add to the chaos, my husband is in the Air Force and had to leave for an assignment when our son was just 4 weeks old. Needless to say all my big plans of sending out fantastic custom birth announcements the month after he was born went out the window. As a designer myself, the last thing I wanted to skip out on was my own child's birth announcement. So, even though they are a few months late, I finally decided on a design direction and ran with it.
When deciding on a name for our son we both wanted something strong and bold but still a bit fun and different. I used those keywords as inspiration for the birth announcements: strong, bold, fun, and different. I feel those concepts came to life through the color palette, illustrations, envelope liner pattern, and layered component of the additional envelope with picture card. Being a multi-piece announcement suite, it also allowed for opportunities to use letterpress and flat printing, creating a depth of texture as well as opportunities to expand upon the main design concepts but in different formats.
Since our son's first name is a little different and special in that it means first born son in Hebrew, I wanted this to be the main focus of the letterpress card and come across strong and bold without a real "babyish" feel. The separate photo card tucked in an envelope labeled "our little love" sealed with washi tape was also a great way to introduce a nickname leaving the letterpress card with the complete formal name.
The envelope liner, featuring onesies with ties labeled "Becher," bottles, footprints, and rattles, was a must for me and added the extra playful patterning in the same chartreuse and steel blue palette as the rest of the suite. All in all, this birth announcement design turned out to be a perfect representation of our little guy and his wonderful personality… and not to mention a great excuse for more letterpress in my life!
Thanks Kaydi – and congrats!
Design: Maison Yellow
Letterpress and Photo Card printing: Czar Press

Baby Photo: Joseph Mark Photography

Photo Credits: Maison Yellow
I've never been to New Orleans, but between the food and the music I'd love to visit one day! Monique from Metal Doily Press sent over these invitations created for a wedding in New Orleans and incorporating several iconic images from the Crescent City. Printed in bright teal and cool gray, the invitations feature a classic magnolia bloom throughout the suite, from the save the dates to post-wedding thank you cards!
From Monique: Chrystal and Brendan wanted to welcome their guests to New Orleans before they even set foot in Louisiana by hinting at elements of their big day in their wedding invitation suite.
The save the dates provided the first opportunity for Chrystal and Brendan to combine their different creative thoughts into one project. They started with the vintage postcard concept and worked out from there. The popular Big Easy phrase "Laissez les bons temps rouler!" captured the intended spirit and required prominent placement on the front. Chrystal's choice of a magnolia in bloom was also a running theme that started on this collaboration. The fonts were meant to join the jazz character of the city and the vintage theme.
On the main invitation, Chrystal had a clear vision of the focal point being the gorgeous magnolia flower. The couple enjoyed the idea of having it appear as both an ampersand between their names and as a contrast to the text. Letterpress printing the two color invitation brought out the tactile details of the illustration. The romantic Heraldica font presented their names in a stylistic contrast to the use of Copperplate below. I printed in teal and cool gray on Cranes Lettra 110 lb stock in Pearl White.
The letterpress printed single color thank you cards were designed to be as bold and sincere as possible. It combined the magnolia bloom again with the Heraldica font in teal. Brendan loved the font. Chrystal loved the color.
Thanks Monique!
Metal Doily Press is a member of the Designer Rolodex – you can see more of their beautiful work right here or visit the real invi­ta­tions gallery for more wedding invitation ideas!
Photo Credits: Bobby Lee Photography
It's always a treat when I get to showcase some beautiful custom letterpress business cards! Jacqueline Marque is an editorial, documentary and lifestyle photographer based in Newport, Rhode Island. In addition to offering portrait, interior, and lifestyle photography, she works as a staff photographer for The Newport Daily News, the arts and entertainment weekly Mercury, and the bimonthly lifestyle magazine Newport Life. Busy lady! After rebranding her photography website and blog Crescent & Anchor, where she shares her work and tidbits of domestic life, she was excited to commission her very own letterpress business cards!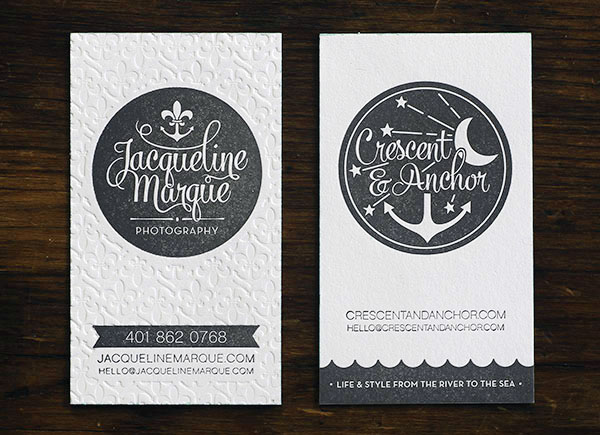 From Jacqueline: After many months of working closely with the designers at SPACECAMP CO on branding for my photography business and blog, I was excited to have an excuse to commission my very own letterpress business cards. They were designed by Danielle Brodersen of SPACECAMP CO and printed by hand, using an antique tabletop press, by Christy Schneider of Inkello.
I wanted my photography business and blog to have sister logos that would be similar but each stand on their own. From the start of the design process, I envisioned corresponding logos on a double-sided card. I wanted the branding to have a vintage feel but still look fresh and modern. The fonts Mercury Script and Neutraface helped us achieve that balance.
The cards were printed on 220 lb. Crane paper. One side is blind embossed with my logo, which combines an anchor and a fleur-de-lis. Aqua edge-painting adds a splash of color to the simple gray and white design.
The designs and tag line, "Life & Style from the River to the Sea," are references to my two homes, Newport and New Orleans. The Crescent & Anchor logo draws inspiration from the water meter covers in the Crescent City (seen below).
Thanks Jaqueline!
Design: SPACECAMP CO
Letterpress Printing: Inkello
Photo Credits: Jacqueline Marque Photography