Search Result for "
business cards

" — 153 results

It's always a treat when I get to showcase some beautiful custom letterpress business cards! Jacqueline Marque is an editorial, documentary and lifestyle photographer based in Newport, Rhode Island. In addition to offering portrait, interior, and lifestyle photography, she works as a staff photographer for The Newport Daily News, the arts and entertainment weekly Mercury, and the bimonthly lifestyle magazine Newport Life. Busy lady! After rebranding her photography website and blog Crescent & Anchor, where she shares her work and tidbits of domestic life, she was excited to commission her very own letterpress business cards!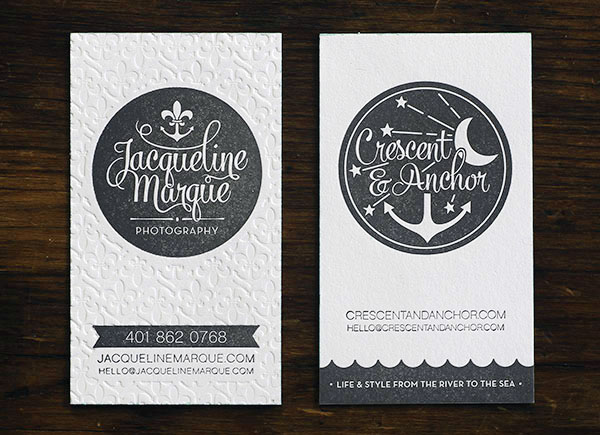 From Jacqueline: After many months of working closely with the designers at SPACECAMP CO on branding for my photography business and blog, I was excited to have an excuse to commission my very own letterpress business cards. They were designed by Danielle Brodersen of SPACECAMP CO and printed by hand, using an antique tabletop press, by Christy Schneider of Inkello.
I wanted my photography business and blog to have sister logos that would be similar but each stand on their own. From the start of the design process, I envisioned corresponding logos on a double-sided card. I wanted the branding to have a vintage feel but still look fresh and modern. The fonts Mercury Script and Neutraface helped us achieve that balance.
The cards were printed on 220 lb. Crane paper. One side is blind embossed with my logo, which combines an anchor and a fleur-de-lis. Aqua edge-painting adds a splash of color to the simple gray and white design.
The designs and tag line, "Life & Style from the River to the Sea," are references to my two homes, Newport and New Orleans. The Crescent & Anchor logo draws inspiration from the water meter covers in the Crescent City (seen below).
Thanks Jaqueline!
Design: SPACECAMP CO
Letterpress Printing: Inkello
Photo Credits: Jacqueline Marque Photography
Designer Aubri Duran sent over her new business cards, and the combination of chipboard, hot pink foil, and shiny gold foil accents is so exuberant! Just the photos of her lovely cards make me smile, so I can only imagine how pretty they must be in person!
From Aubri: These are my dream business cards! I rebranded myself at the end of last year and this year was all about redoing my website and getting the perfect business card to go with my new look.
I love the luxe of cotton paper but I decided to go with the natural chip board because I wanted an organic element but also wanted to mix it with the pretty foils. A shiny gold foil was a must for me but for my second color it was either going to be pink or turquoise. After looking at lots of swatches I went with the pink and LOVED it!
Thanks Aubri!
Design: Aubri Duran
Printing: Genuine Letterpress Inc.
Photo Credits: Ben Peacock Photography
You already know Bailey and Emma, the lovely and talented ladies behind Antiquaria, from their regular DIY tutorials here on Oh So Beautiful Paper – not to mention their custom wedding invitations and vintage shop.  Bailey and Emma recently redesigned their business cards, and I'm loving the beautiful knockout calligraphy logo and soft aqua edge painting!
From Bailey and Emma: We wanted to make something unique while keeping in line with our brand image.  The cards were letterpress printed in black and copper on super thick cotton paper.  We then added the edge painting ourselves because, after all, who doesn't love a pop of color?
Thanks ladies!
Antiquaria is a member of the Designer Rolodex – check out more of their beautiful work right here!  For DIY inspiration, you can also see their DIY tutorials here.
Photo Credits: Kelly James of Studio Austin Weddings
Matthew from A Fine Press sent over the fabulous business identity and stationery that he recently designed for wedding photographer Karen Ard.  Karen loved the idea of incorporating a wax seal (such a great detail!) and doing something travel-inspired, so Matthew came up with an identity inspired by Southern California surf culture and business cards inspired by luggage tags.  The entire suite was letterpress printed on kraft paper in soft and beachy colors.  So lovely!
From Matthew: Karen was particularly drawn to the idea of a wax seal to bring her business stationery together.  She approached me with the idea of doing a travel-inspired visual identity and stationery suite that maintained a nod to her SoCal location.
For inspiration, we drew heavily from postage and postmarks from around the world.  We loved the idea of using the circle of a postmark as our starting point.  A friend's surf video got me thinking about all the great surf-culture branding out there and the image of a hibiscus blossom on a longboard provided us with a clear direction.
Karen wanted colors to reflect the beach and had suggested we start with seaglass colors.  From there, we settled on teal, with brown as a second color along with cream and kraft-substrates.  For a typeface, we went with the Deco-styled Aviano Sans, which I found extremely evocative of vintage travel.
The print pieces were done on French Paper's Muscletone Kraft with PopTone Whip Cream envelopes.  In addition to Karen's official colors, I printed her 1-color logo in transparent white on her thank you cards to make it pop while keeping it neutral in color.  Her luggage tag-inspired business cards were printed with her handwriting filling in the important details.
Thank you so much Matthew!
Photo Credits: Karen Ard
I love the classic beauty and elegance of these business cards from calligrapher and illustrator Molly Jacques.  Molly frequently works with the ladies of Sugar Paper (which is where I first became acquainted with Molly's work) and her calligraphy and illustration portfolio is simply stunning.  The ladies of Sugar Paper letterpress printed Molly's double-sided design in their signature pool ink.  Gorgeous!
Molly has a beautiful shop with calligraphy address stamps and some truly beautiful prints – I just couldn't resist sharing these two prints in particular:
Thanks Molly!  You can see more of Molly's illustration and calligraphy work right here!
Business Card Design: Molly Jacques
Letterpress Printing: Sugar Paper
p.s. Check out more business card ideas and inspiration right here!
Photo Credits: Molly Jacques