Today we're headed to Philadelphia to chat with Amy Voloshin of Printfresh about her stationery business story! As a textile designer, Amy has taken a unique path to developing a stationery line. She's here to share the integral role that fabric, textures, and patterns play in her designs. Amy is also a huge supporter of her community in Philly and shares about the various ways she teams up with local organizations to give back. — Megan Soh
From Amy: I studied textiles at the Rhode Island School of Design and focused on print and knitting. My first job out of school was working for URBN designing prints and garments for the Urban Outfitters and Free People lines. It was back in 2003 when technology was still limited in the industry and the work was very hands on — we used gouache to mock up colorways, and made repeats with pencil and a photocopier. It was an incredibly creative environment and the experience opened the door to an art director position for a textile design studio in New York. I loved the work but missed Philadelphia, and I decided pretty quickly to move back and use what I had learned to start my own studio.
I rented a small warehouse space and began developing a print collection to sell to fashion designers. At the time I was screen printing many of our designs by hand and going on sales appointments myself! Our company grew tremendously over the next 10 years, and I was able to pull together an amazing team of talented designers and passionate saleswomen. Print design is so focused on behind-the-scenes work, and as our business became more established I started dreaming about what creative avenues I wanted to explore next. I've always loved stationery, but find that so many of the designs out there are too preppy for my personal bohemian aesthetic. After a lot of thought, I decided to apply my love and expertise in textiles and pattern to the world of paper. I signed up for the 2017 National Stationery Show and started working with a few of our textile designers to develop the very first Printfresh stationery collection. We got such amazing feedback at the show, I knew I'd made the right choice.
Our studio is based in the Kensington area of Philadelphia. My husband and I are obsessed with old warehouses and found a beautiful carpet factory built in the late 1800s. We decided to renovate and relocate our studio here, and we finally moved in last fall. I love that our building was was used for textiles in the past. It still has many of the gears and industrial equipment from working with carpet rolls, and we've done our best to preserve some of it and show the history of the space. The Kensington neighborhood faces a lot of social and economic challenges, and our hope is that by restoring this warehouse and creating a community of small business owners and creatives we can help spur economic development and revitalization here.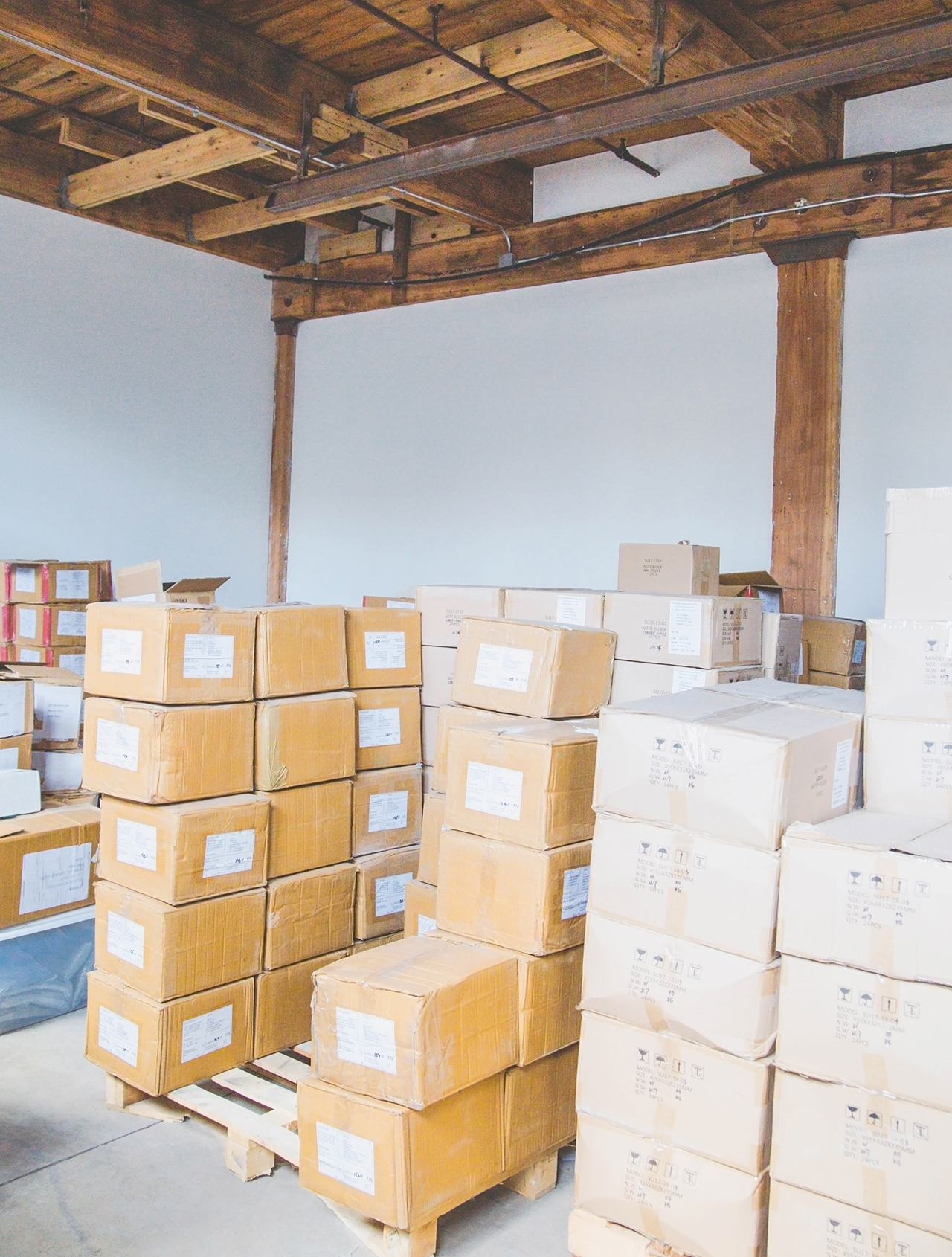 We're invested in the Philadelphia community (I live less than a mile from our studio) and when starting the stationery line I knew I wanted to find a way to leverage the brand to give back. For the past two years we've partnered with Philly Paper Jam to donate a full year's supply of paper to two local schools. We've also started giving 5% of our online sales to organizations that provide creative programming to children in Philadelphia's public schools. Each quarter we feature a select group of amazing local organizations on our social media and blog, and it's been great learning about and connecting with men and women who are really making a difference in Philadelphia.
My typical work day is very scheduled. I'm pretty busy between my entrepreneurial ventures and being a working mom. I'm a nut about Google calendars — everything is scheduled. I usually get up pretty early (around 5:45AM every day) to start working on something I really want to do, whether it's a creative project or a walk around the neighborhood. That's my power hour and I really try to do the thing I most want to do then. I spend time with my kids when they wake up and get them ready for school, and then I'm off to the office. During the work day most of my time is dedicated to meetings with my teams. I help direct all things visual – upcoming marketing materials, product development, progress on new collections, and ideas for upcoming selling events.
Our current collection focuses on journaling and desk, and I think that our point of view (combining a love for fabric, subtle patterns, soothing color and purposeful design) is what really makes us unique. While we've developed some purely paper products, the majority of our collection features fashion-inspired touches like fabric covers, woven wraps, ribbon bookmarks, and traditional textile processes like silkscreen and hand-marbling. One of our most popular product categories are our velvet journals, featuring plush velvet accented with metallic foil text and patterns. Another of our most popular styles are the noteblocks – they're the absolute best desk accessory. Natural cork bases give these notepads a touch of something tactile, while the gold foiled edges evoke a modern shine.
While the products and inspiration changes, my process for creating each new collection is usually pretty consistent. Like most people these days I start with a new Pinterest board. I gather inspiration for color, silhouette and pattern and start identifying what kind of products and finishes are most inspiring me. I try not to spend too much time there, since another big part of the concepting process includes seeking inspiration in-person. I try to go to museums, art exhibits and flea markets to find more primary sources for my work. It helps the designs feel more pure and less derivative, and plus it's more fun!
Once I have a few general concepts I start creating really loose sketches illustrating different types of silhouettes. Finding time to sketch in the office can be hard during a busy day, so I tend to do my most creative work away from the studio. I started drawing the latest collection after Thanksgiving dinner! You never know when creativity is going to strike, so I always love to have a sketchbook on hand.
After I've finished sketching I start making decisions on materials, choosing fabrics, embellishments and trims. Then when I've developed a clearer vision I work with a team member to start creating the artwork and rendering the silhouettes in Photoshop. We render all of our designs in fairly high detail – I'm a very visual person, and I find it helpful to see exactly what the designs would look like in real life. It's also incredibly important on the production end of things, since we work with artisans and craftspeople in India rather than manufacturing in-house. We need to be very specific about almost every aspect of each design, and we prepare incredibly detailed instructions (including everything from overall dimensions to paper weight to Pantone colors) that we call tech packs. If something is even just a little bit off in the tech pack, the finished product will suffer for it!
Once we receive our first prototypes we review the product, decide on any style changes, and work with our vendors to develop a 2nd prototype. At that point we have to make the tough decision about which products make the cut and are good enough to be shown at the big industry trade shows like NYNOW, the Atlanta Gift Show, and NSS.
Starting a new line is never easy, and it definitely comes with challenges. I've found that creating and cultivating a cohesive brand is the most difficult and also most rewarding part. I don't have a lot of experience in branding, especially since my textile design studio focuses more on relevant designs and great business-to-business relationships (a much different market than that of the direct to consumer). But since this brand is my aesthetic, I've learned that I just need to trust my gut instincts. If something doesn't sit right with me about the colors, pattern, silhouette or wording then it's probably off brand. I try to make sure I'm making decisions on an emotional level and always staying true to my intuition.
All photos courtesy of Printfresh.
Want to be featured in the Behind the Stationery column? Reach out to Megan at megan [at] ohsobeautifulpaper [dot] com for more details.