Oh man, you guys. I think I've been bitten by the renovation bug! Ever since we renovated our bathroom a year ago, I've been itching to finally do something with our kitchen. And since we're in the kitchen every. single. day I think about renovating ALL the time. As I mentioned here, the kitchen layout is super awkward, with high gloss cabinets and frosted glass fronts (not to mention the corrugated cardboard "metallic" backsplash) that feel out of place with the overall aesthetic of our home. We're still in the inspiration-gathering phase, and today I thought I'd share some of my favorite kitchen inspiration images with you today!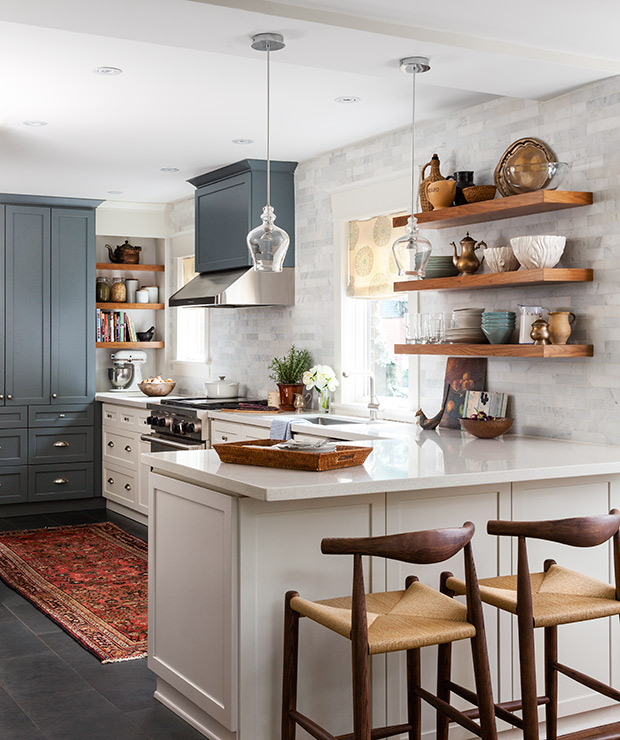 Design: Qanūk Interiors / Photo Credit: Donna Griffith for House & Home Kitchens & Baths Fall 2013
We knew we wanted to renovate the kitchen from the day we moved in four years ago, but we wanted to live with our kitchen for a while to figure out the best layout for our needs. And I've honestly been stumped for most of the last four years! The kitchen is one of the largest rooms in our home, but the layout is so bad that we constantly feel pressed for prep space and accessible storage. (If you're curious, I did a rough (and definitely not to scale) layout of our current kitchen layout that you can see here.) The cabinets and appliances are on opposite walls, with eight or so feet of empty space in the middle (where our dining table now sits), so we can't easily go back and forth between counters and the stove or sink while we're cooking. But I just couldn't figure out where or how to move things around – until I saw the image above from House & Home Kitchens and Baths!
Design and Photo Credit: Crystal Ann Interiors
We're now pretty settled on moving everything over to one side of the kitchen in a slight "c" shape, with either a built-in dining nook on the other side of the kitchen or floor-to-ceiling cabinets with an island in the middle. (You can see my rough layout here.) The layout would start with a refrigerator enclosed in cabinets at one end, then wrap around the wall towards a short peninsula at the other end. The wall between the kitchen and living room isn't load bearing, so we'd open up that wall to create the peninsula and make the entire floor plan feel much more open. We would have lower cabinets for closed storage on the bottom, and a mix of upper cabinets and open shelving above. This would hopefully solve all the wasted space in our kitchen without compromising on storage.
Design: Melissa Lee / Photo Credit: Ty Cole Photography via Design Sponge
In terms of color and style, our kitchen sits in the middle of our home (a 1920s rowhouse) and doesn't get much natural light, so my dream of a bright white kitchen probably won't work. I'm loving the combination of navy lower cabinets, white walls, marble tile, and wood in the kitchen above.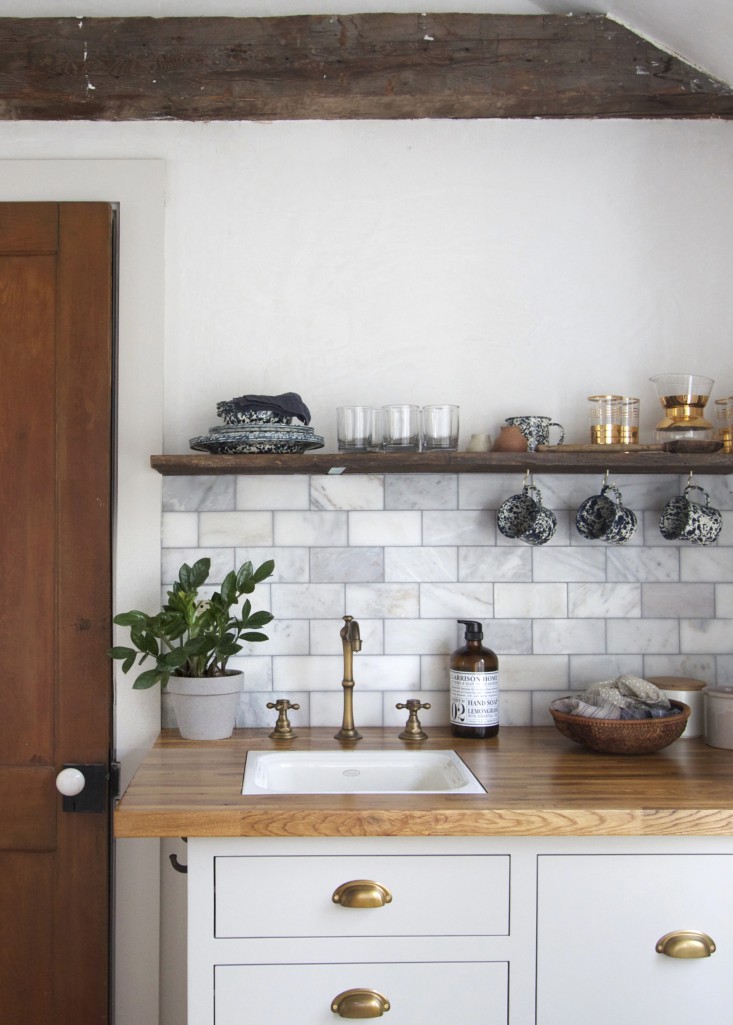 Design and Photo Credit: Jersey Ice Cream Co. via Remodelista
Butcher block counters with marble tile is also an excellent combination. And like everyone else in the world, we're in love with the plaster walls that Jersey Ice Cream Co. did for Beth Kirby's kitchen below. Although if I wasn't worried about selling the house down the road I'd totally go with the pink plaster version instead.
Design:Â Jersey Ice Cream Co. / Photo Credit: Beth Kirby via Remodelista
Design and Photo Credit: Sarah Sherman Samuel
Design: Wit + Delight / Photo Credit: Canary Grey for Domino
I've got the color combination for the cabinets, countertops, and walls, but what to do about the floor? I love the cement tile that Kate used in her kitchen, but I worry that it's too modern for our 1920s home. But maybe not? I don't think we'll be able to match the wide plank wood flooring from the rest of the house, so I'm definitely leaning towards some type of tile. Old school hexagon tile? I love the way the tile meets the wood floors in the kitchen below!
Design: Royal Roulotte via My Domaine
Alright everyone, throw it at me! We've only been through a bathroom renovation before, which I'm sure is a piece of cake compared to a kitchen renovation. What do I need to know? Any advice for renovating a kitchen with two small kids at home? I'm all ears!