We love the juxtaposition of soft watercolor illustrations with rugged, rustic wedding details! Amanda Franz of Wide Eyes Paper Co. created these illustrated Lake Tahoe inspired wedding invitations, featuring the stunning illustrated scenery of the Lake Tahoe area throughout the invitation suite. We're also loving those adorable engraved wooden tags featuring the couple's custom monogram. So fun!
From Amanda: Named after the Lake Tahoe Basin's most plentiful tree, The Jeffrey Pine suite was created for two lovers getting married in majestic Lake Tahoe. Heather and Jon hired us to create an invitation suite that was both classic and sophisticated with a woodland flare. For a touch of rustic elegance, this set also features a wooded watercolor scene alongside the beautiful shores of Lake Tahoe.
The watercolor scenery was incorporated into various elements of the invitation to create a stunning visual experience. One of our favorite places where we incorporated the watercolor artwork was on the custom envelope liners.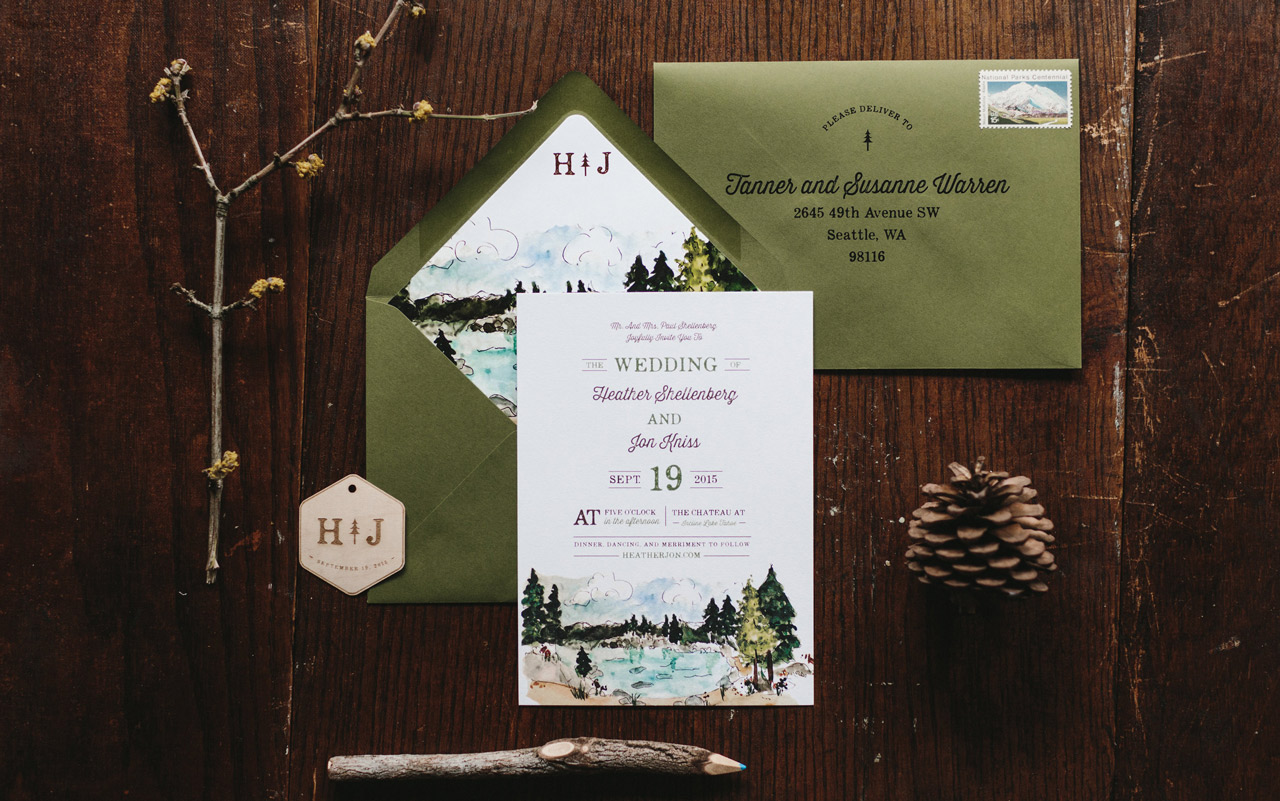 Heather and Jon wanted to go a more informal route, so we designed a postcard style RSVP enclosure. These were great because they did not require an envelope and we printed their return address directly onto the back of the card. The watercolor scenery is also seen on the front of the RSVP card, which was another fun element of surprise.
In addition to the watercolor artwork, we created a custom monogram for the pair that is showcased on our signature wood engraved tags. We also included the custom monogram on the envelope liners to push their aesthetic even further.
Another amazing detail seen in this suite is the colorful watercolor map we illustrated. Maps are such a fun, quirky way to point out special landmarks that hold significance to the couple.
We love how the olive green envelopes play with the lake themed accents in the design. For the final touches, we printed each guest's name and address onto the envelopes. Their custom monogram is printed on the back flap of the envelope to create a cohesive look and feel.
Thanks Amanda!
Design: Wide Eyes Paper Co.
Printer: Advanced Reprographics
Wide Eyes Paper Co. is a member of the Designer Rolodex – you can see more of Amanda's work right here or visit the real invitations gallery for more wedding invitation ideas!
Photo Credits: Nicole Mason