Hello! This month I've personally felt a mound of emotional heaviness, so I was looking for this illustration installment to add some lightness. For me, flowers — and really anything botanical — are always a natural way of lifting my spirits. And I'm a huge fan of wildflowers — Maine wildflowers were, in fact, the makeup of my wedding bouquet. So when I stumbled on the work of illustrator/artist Katie Daisy through a search for botanical illustrations, I knew this was where I wanted to stay for a while. Her illustrated field guide book, How to Be a Wildflower, is now high on my wish list, and her work is something I'd also like to share with my 5-year-old daughter — another big fan of wildflowers. Let's forage through the lovely botanical illustrations by Katie Daisy and her colorful uplifting quotes to capture some positive sunshine. – Jen
Here's a peek into her New York Times bestselling book, How to Be a Wildflower, which includes activities to do that get you out amongst the trees and flowers:
Katie Daisy must undoubtedly be inspired by her location, as she lives in beautiful Bend, Oregon — a place chock full of trails to hike and wildflowers to pick (or so I've seen in photos on my Instagram! Oregon is on my travel wishlist.)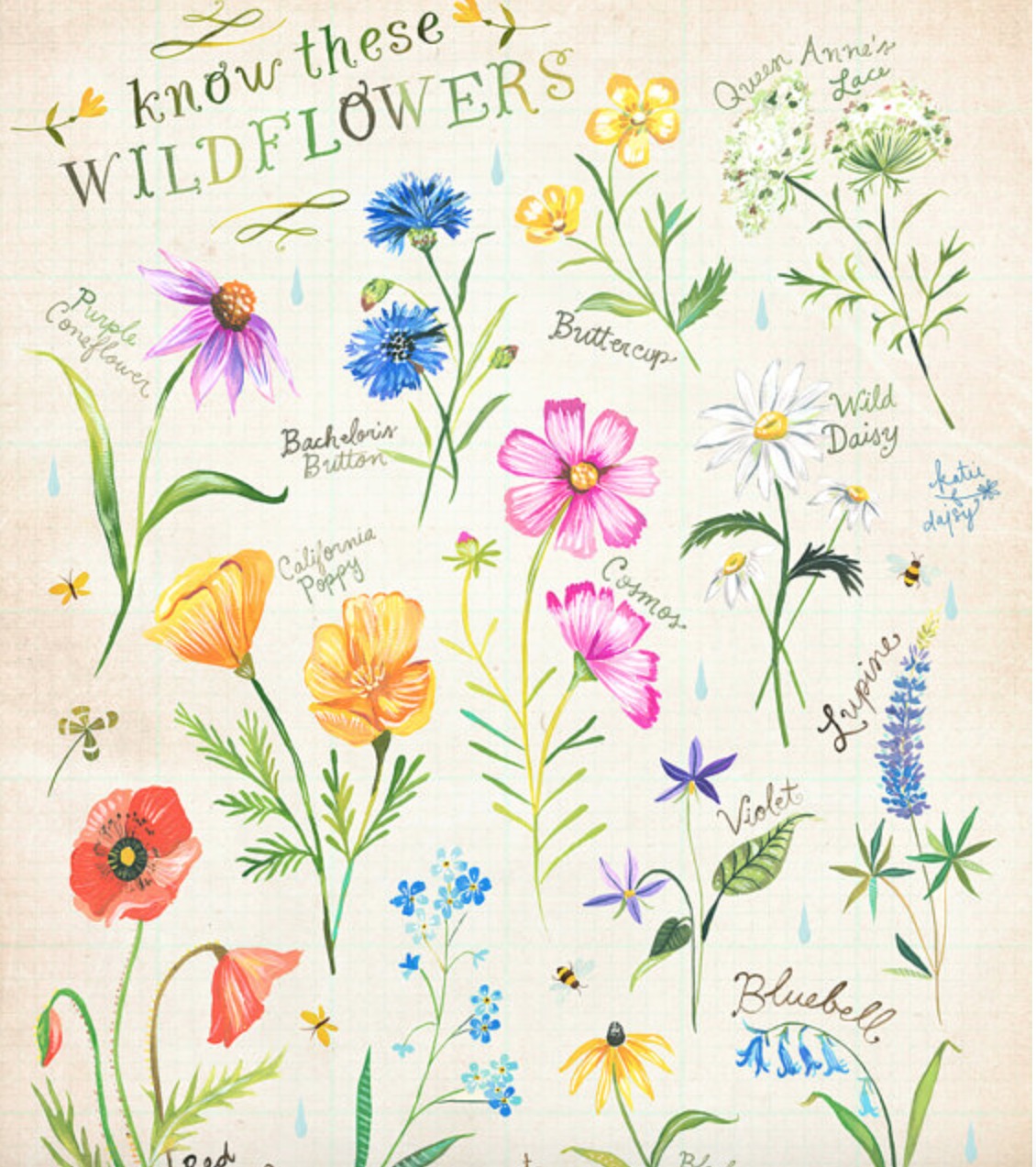 I love the way Katie combines typography with illustration. It's easy for quotes to go the "cheesy" route or feel overplayed, but her illustrations with words simply feel happy and modern. I could see hanging one of these prints in a kitchen or bathroom just as easily as art in my kiddos' bedroom.
What also struck me as I checked out Katie's website and Etsy shop is the extensive body of work she's created! This is a tiny glimpse of her illustrated art prints and there's even a whole collection of gifts — from illustrated tote bags to pencil pouches. What would be on the top of your list? I can say at the moment, this art print with the trees and that meaningful proverb is what I'd like to hang up in my entry as a gentle reminder.
Thanks for following along this installment of the World of Illustration. Be back here again soon!
Photo Credits: Katie Daisy