I'm a huge fan of the dip dyeing technique, and these romantic calligraphy dip dyed wedding invitations from Jill at Art + Alexander are no exception! The dark teal color is just absolutely stunning, and I love the way Jill continued the dip dye effect around all four edges of the invitation and some of the enclosures!
From Jill: The words I jotted down prior to designing this suite were: love letter, romance, simple, soft, and lovely. I love the colour that ink fades into, decades after being written – a brownish gold tone. I tried to recreate that ink colour for this invitation suite. I also tried to keep the calligraphy quite soft and loose, as if it had been written on some romantic whim.
I opted for Cartiera Magnani paper for its rich texture and soft, organic look. I thought that the paper would behave similarly to a watercolour paper would, and absorb the watercolour paint well, which it did. I used the dark teal to add a pop of color, and wet the paper prior to dip dying so that it would bleed more and fade out more naturally, as well to give it a celestial look.
The invitation suite includes a beautiful quote from The Chaos of Stars: "And I'd choose you; in a hundred lifetimes, in a hundred worlds, in any version of reality, I'd find you and I'd choose you."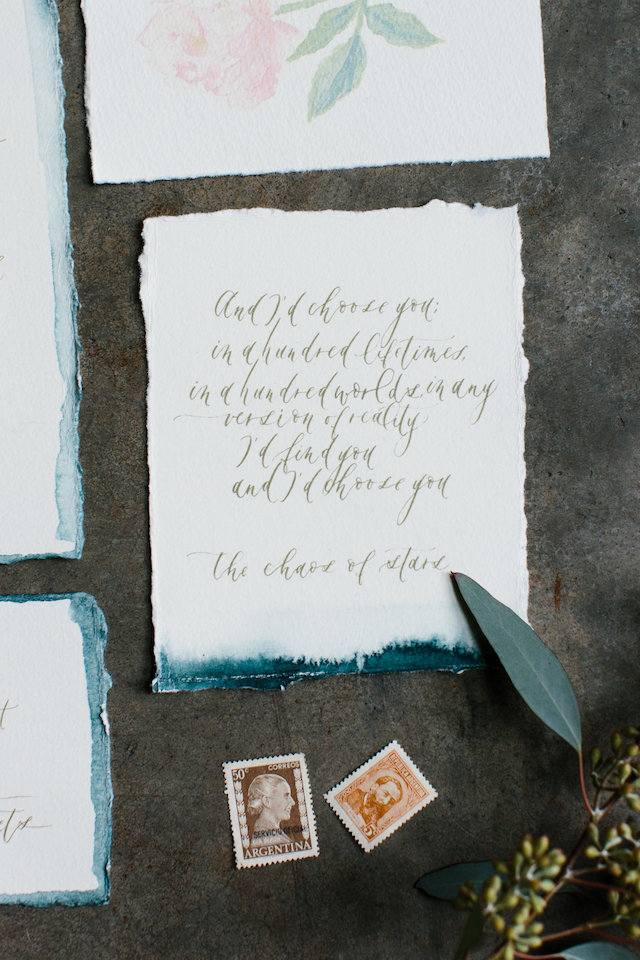 I just thought that it was the most beautiful quote and tied in so nicely with my original inspiration. I also included a watercolor illustration of a peony to add a touch of femininity. The suite was handwritten and the paper was hand torn. The stamps included in the photographs are from my Grandmother's antique steamer trunk.
Thanks Jill!
Design and calligraphy: Art + Alexander
Check out the Designer Rolodex for more tal­ented wed­ding invi­ta­tion design­ers and the real invi­ta­tions gallery for more wedding invitation ideas!
Photographed by: Shannon Yau