Okay, so this officially qualifies as last minute – but hey, as a busy mom, pretty much EVERYTHING I do is last minute. Luckily there's a printable in this post and these Valentines take all of 10 minutes from start to finish, which makes them the perfect solution for busy moms everywhere. I made these DIY googly eye classroom Valentines with my 3 year-old in mind. She can't yet read the words and she definitely doesn't understand puns yet, but googly eyes? Every toddler can get behind googly eyes! We'll be pairing our Valentines with cute temporary tattoos (another toddler favorite), but you could easily staple these to a gift bag full of Valentine's Day candy or punch a hole in the top and use them as oversized gift tags!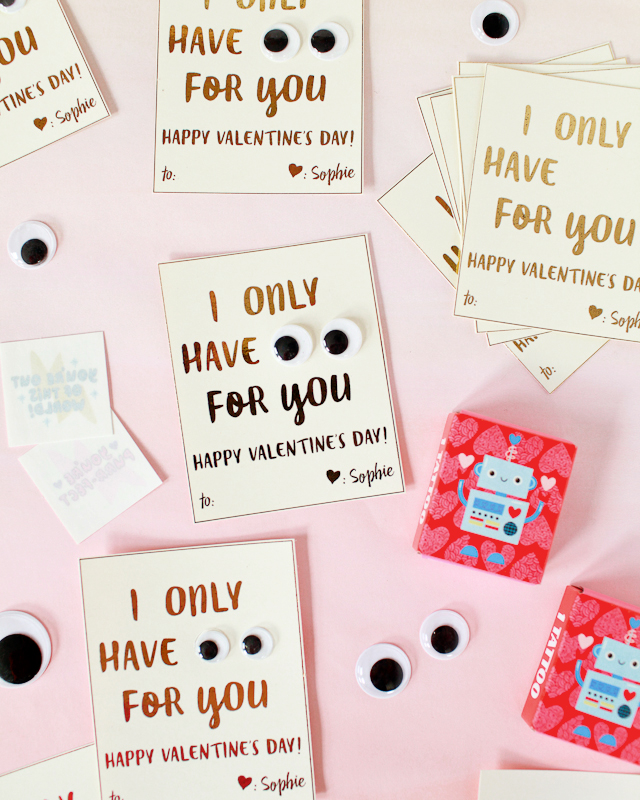 So here's the thing about preschoolers: even though they're only just now learning how to write and read, they LOVE writing letters to each other. At my daughter's preschool, each child has their own little mailbox where they can leave each other notes, and I'm constantly delivering envelopes to the teachers because the kids "write" so many letters to each other. It's just the cutest thing ever. Our school is having a Valentine's Day social tomorrow morning and I can't wait to see these tiny humans all exchange Valentine's Day cards with each other!
To make the googly eye classroom Valentines:
Step 1. Download the free printable here and print onto any color card stock. I can't resist an opportunity to use my Heidi Swapp Minc foil applicator, so I turned mine into gold foil Valentines – but they also look super cute in black and white! Trim the cards down to size using scissors or a paper cutter.
Step 2. Apply a small dot of school glue to the back of a pair of googly eyes (mine are from Michaels) and place them on the card – or let your toddler do it! Allow to dry. If you don't have googly eyes on hand, try drawing a pair of eyeballs instead! Write the name of each recipient at the bottom, along with your child's name, then adhere to a Valentine's Day treat of your choice.
I'm also planning to print a bunch of these for my 1 year-old's daycare class. Googly eyes! The perfect solution for tiny humans of all ages. Happy Valentine's Day everyone!
Download the printable template right here!
Photo Credits: Nole Garey for Oh So Beautiful Paper
All artwork is created for personal use only and may not be altered, reproduced, or sold in any way without prior written consent.