I'm back with more from NYNOW – and there are a few things that I wanted to show in full size photos! You already saw these gorgeous matte champagne foil "Modern Americanisms" cards from Belle & Union in my first highlights post – but I couldn't resist sharing them again! Meg also brought a few new greeting card designs, some new farmer's market-inspired tea towels, and adorable mini wood baking tool sets!
See that gorgeous laser cut wood sign? Those are available for purchase, too!
Gorgeous new cards prints and a wall calendar from Banquet Workshop! I'm loving the all the botanical designs – from tropical foliage to floral vines to cacti!
It was so fun finally getting to meet Kristin from Worthwhile Paper in the Etsy pavilion at NYNOW! I love Kristin's screen printed cards, prints, and notebooks!
I absolutely LOVED getting a peek at the new Classic Cocktails 2016 calendar from Wild Ink Press! Not only does it feature beautiful illustrated cocktail recipes, but it also boasts THREE different printing methods: letterpress, offset, and metallic foil. Amazing!
Lots of cute illustrated and hand lettered stationery goodies – from calendars to art prints to notebooks – over at the Little Low booth!
Cute nostalgia-inspired textiles and stationery from June & December!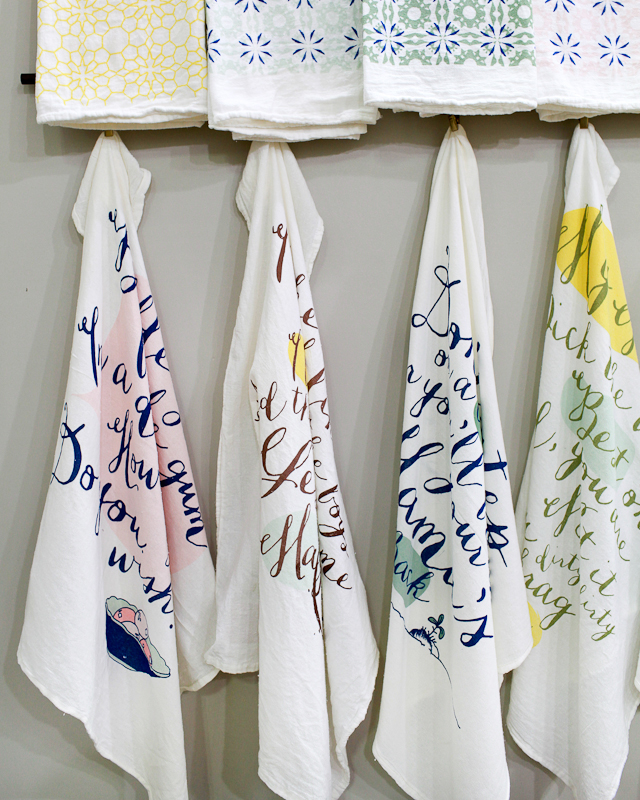 I love all the bright and colorful illustrated – and food-inspired! – stationery from Red Cruiser. And how cute are those "Let's do brunch/coffee/lunch/dinner" cards??
And last up for today – a few of my favorite new cards from the ladies of One Canoe Two!
More from NYNOW coming up tomorrow!
All photos by Nole Garey for Oh So Beautiful Paper