Happy Monday everyone! Designer Lauren Chism shared these beautiful gold foil and lace wedding invitations here a couple of years ago – and today she's here to share a slightly more traditional spin on that combination! The invitations feature gold foil text surrounded by a subtle lace-inspired letterpress blind impression pattern, and a beautiful gold floral envelope liner. So classically beautiful!
From Lauren: Gold foil is definitely having a moment right now… and you would think if you've seen one gold foil and lace wedding invitation, you've seen them all, but these invitations might prove you wrong!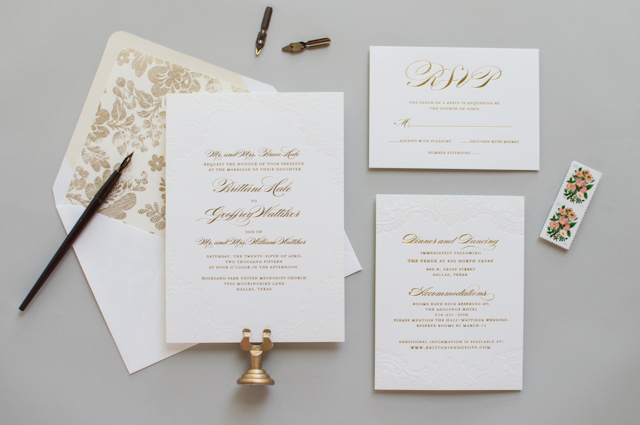 Brittany and her mom were drawn to Carley and John's wedding invitations but were looking for something a little more traditional with lace accents instead of the lace taking up the whole invitation background. I played with a lot of lace arrangements before we landed on this classic look and I love how timeless and elegant this suite is.
The insert and RSVP card were also printed in gold foil, with the insert featuring the lace again, that coordinated, but wasn't exactly the same. We paired them with ivory envelopes and Brittany picked this gold floral paper from Paper Source for the liners, which she ordered and I cut down to fit her envelopes. I love how two invitations with the same printing method and general 'style' can be so different! 
Thanks Lauren!
Design:Â Lauren Chism Fine Papers
Printing:Â Czar Press
Envelope Liners:Â Paper Source
Lauren Chism Fine Papers is a member of the Designer Rolodex – you can check out more of Lauren's beautiful work right here!
Photo Credits:Â Lauren Chism