Among all the attractions Washington, DC offers, one of the briefest but most glorious are the annual spring cherry blossoms. A gift from Japan at the turn of the last century, the product of decades of lobbying by writer and geographer Eliza Scidmore, DC is crawling with cherry blossom trees. For a vanishingly short time each spring, they bloom and then quickly loose their petals in clouds of pink flower confetti that fall with every breeze. Did I say it was glorious? (If you do visit for the cherry blossoms, skip the crowded Tidal Basin and visit some of the quieter groves, like the one in Capitol Hill's Congressional Cemetery or Georgetown's Dumbarton Oaks.) Nole asked for a cocktail this week to celebrate the flowers, so here's a light and air (and pink) gin sour that tries to capture some of their spirit. – Andrew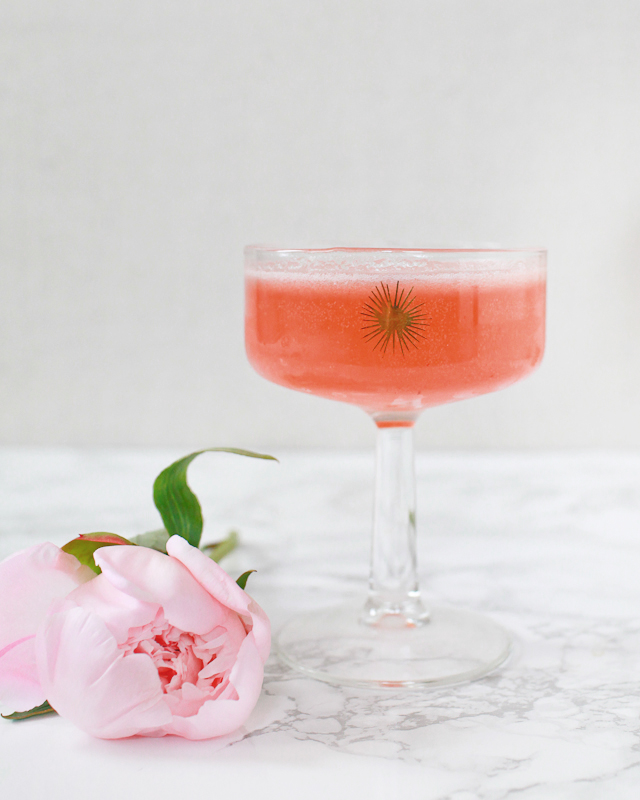 Illustration by Shauna Lynn for Oh So Beautiful Paper
The Peak Bloom
2 oz American Gin
1 oz Lemon
1 oz Cherry Blossom Honey Syrup
1 tbsp Strawberry Preserves
Splash of Soda Water (Optional)
Combine the gin, lemon, syrup, and preserves in a cocktail shaker and add three or four big square ice cubes. Shake well and fine strain (pouring through a tea strainer or using a strainer spoon with a tightly coil) into a chilled cocktail glass.
We talked about American gins, in contrast to drier English-style gins, last week when we wrote about our updated Gin Rickey. Emphasizing other botanicals alongside juniper, a new American-style gin lends this drink a softer profile. We used Heritage Distillery's Soft Gin for our Peak Bloom.
The cherry blossom syrup – made in Japan from honey and cherry blossom extract, which we included in another cherry blossom themed drink a couple years ago – lends this drink a subtle floral flavor. And those preserves do a couple of nice things: they add a bit of earthy sweetness that leaves this drink on the sweeter side, and the pectin in the preserves helps thicken this drink up a bit in the same way that a little egg white might, too.
The Peak Bloom doesn't need a splash of soda water, but a few effervescent bubbles can be a nice addition here. But the drink will go flat fast – just like the cherry blossoms lose their petals – so you might find yourself drinking it down quickly.
(Don't forget to follow us on Instagram, where we've been posting our experiments before they make their way onto this column!)
Glassware by Liquorary
Photo Credits: Nole Garey for Oh So Beautiful Paper