I have a soft spot for this next stationery team I'm about to introduce. For one, they're based out of the great state of Texas (where I'm from) and two, the boss lady and I share the same name. I remember seeing Belle & Union at their first booth at the National Stationery Show, and ever since then I've enjoyed seeing the growth of their line as they continue to branch into new product categories. No matter what it is, they are committed to manufacturing 100% handmade in the USA products and walk us through the why's and how's of that process. Here's Meg and Josh! —Megan
Howdy y'all! Meg and Josh of Belle & Union, here to give you a small peek into our studio and small business life. We are a husband and wife team, Meg, the boss lady and doodler, and Joshua, the press whisperer, with moral support from our fur baby and shop dog, Ellie. Our studio is based in sunny College Station, Texas (whoop!), on the first floor of our carriage house apartment. We are busting at the seams with our new inventory, but are trying to make it work for the next few years before we settle somewhere post-graduation (for Josh, who is currently studying food science and technology. Yum!). We hope to open a little shop someday as part of our studio, and maybe even a little café next door.
We letterpress print all of our greeting cards in house (over 100 of them!) on our 10×15" Chandler & Price letterpress. Every product we make starts with pen to paper, where one of my doodles comes to life. We've got a soft spot for vintage American wit and wisdom, and goods that tote a bit of a foodie twist. To us, the kitchen is the heart of the home and the memories made in it feed our souls.
Our recipe? Start with all-American ingredients: the papers we print on, the cotton in our textiles, and the wood in our handcrafted gifts. Mix in my doodles and season with Josh's mechanical moxie. Everything we do is handmade right here in the USA of American materials. It is what makes our line a little something extra special. Josh served as a soldier in the United States Army, sacrificing his time and many comforts of home while on deployments in Afghanistan and Korea. It became important to us to honor our soldiers and their efforts, and valuing American Made gave us that purpose. Our commitment to American Made is written on our hearts.
Our tea towels are notably something we are proud of. We spent eight months creating our own supply chain, taking the raw West Texas cotton, watching it become greige then finished fabric in the Carolinas, moving along to Georgia where it is stitched into blanks in preparation for its final phase, the addition of our graphics in an array of beautiful screen printed colors, all before heading back to us in Texas for packaging, coming full circle. The business is truly a labor of love and pure homegrown goodness.
While we love everything we create, the heart of our collection is rooted in our letterpress greeting cards. The cards are as storied as the words that get written on them. Many are based on Southern phrases and Americanisms handed down from generation to generation – meant to evoke a smile, a laugh, or even raise an eyebrow or two. I am always jotting down things I hear when out and about. One of my favorites is our "If a little is good, a lot is better" card – a phrase often heard in my grandmother's kitchen. Usually a response to a little bit too much of an ingredient being added while cooking, specifically when a *certain* one of her granddaughters is adding sugar into suga – a sweet Italian spaghetti sauce, a family favorite for Sunday gatherings. Though I am sure she never meant it in reference to candles on a cake, it sparked a card and now hangs as a little art print in her kitchen, a place of honor.

We've really enjoyed taking our favorite greeting card phrases and breathing new life into them across various product categories, most notably seen in the kitchen. Josh loves to cook and I love to eat, so it is a natural extension of the brand, something really fun to see the doodles come to life in three-dimensional form. Included in the photos are some of our newest wares to the collection, including hand-carved kitchen utensils featuring our favorite phrases, laser-cut cake toppers, and even a ceramic salt and pepper shaker set (my personal favorite!).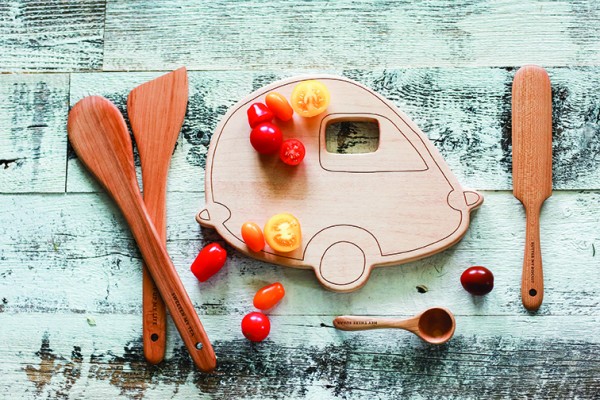 Follow along on our journey, @belleandunionco and @presswhisperer on Instagram and Twitter. All photos by Amanda Marie Portraits.
Interested in participating in the Behind the Stationery column? Reach out to Megan at [email protected]