I love the juxtaposition of organic elements with a very urban venue in these wedding invitations from designer Christa Alexandra. Created for a wedding at The Brooklyn Winery, the design was inspired by the reclaimed wood walls and decor of the wedding venue. The wedding invitation suite features an organic color palette of soft green, taupe, and brown. Beautiful!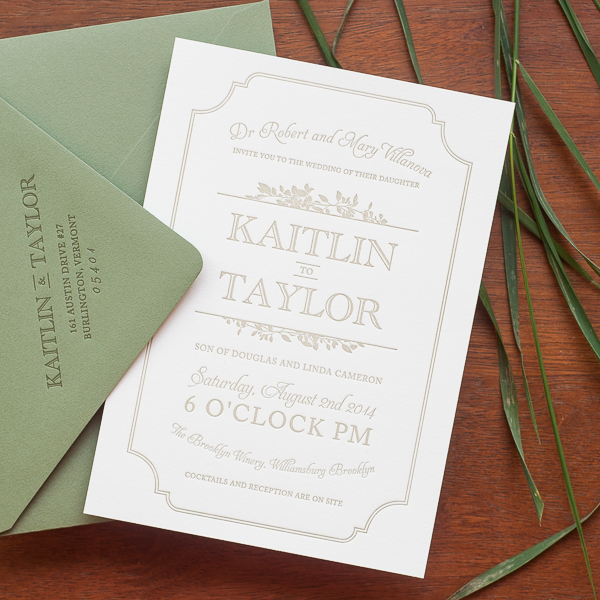 From Christa: I designed and printed this letterpress invitation suite for Kaitlin and Taylor's wedding at The Brooklyn Winery. Kaitlin was inspired by an organic palette of leaf green, taupe, and brown. The venue, self described as an "urban winery," boasts a warm ambiance, reclaimed wood walls and locally sourced decor.
We created a sophisticated invitation with an informal feel using pretty typography and pops of green. Staying away from the traditional vineyard vines, we chose to use leaves and thin branches to incorporate some natural elements into the stationery. The entire suite was lovingly hand-printed on my 1918 Chandler & Price letterpress.
Thanks Christa!
Check out the Designer Rolodex for more tal­ented wed­ding invi­ta­tion design­ers and the real invi­ta­tions gallery for more wedding invitation ideas!
Photo Credits:Â Christa Alexandra