The 2014 National Stationery Show may have officially wrapped up yesterday (sniff!! miss you all already!), but my coverage from this year's show is just getting started! And you guys, there were SO MANY amazing booths this year, I'm almost afraid to think of how many photos I took over the last three and a half days. So let's get right back to it, with one of this year's most hotly anticipated booths: Emily McDowell! I'm such a big fan of Emily's compelling hand lettered greeting cards, prints, tea towels, tote bags, and temporary tattoos – and this year Emily added gift tags, sticker labels, and notepads to the collection!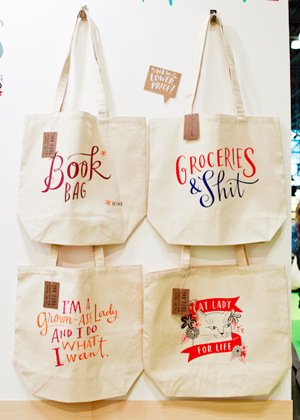 After exhibiting with Crow and Canary a few times, Ashkahn made his official debut in a solo booth this year! I love the mix of foil and neon, not to mention irreverence and sentimentality, in his letterpress greeting cards.
Pineapples were everywhere at this year's show (seriously), but that was perhaps most true at the debut booth from Hartland Brooklyn. Isn't that wallpaper (made using custom gift wrap!) incredible? And so many fun greeting cards with gold foil, tropical illustrations, and yes, plenty of pineapples.
Minted's booth this year showcased their art prints, gold foil holiday cards, and additions to their letterpress wedding invitation and baby announcement collections. And how gorgeous is that folded paper backdrop?!?
Another new exhibitor, Golden Fox Goods, had a bright white booth with tons of colorful greeting cards, fill-in party invitations, and art prints!
Lots of colorful letterpress paper goods from Studio SloMo – from a calendar to greeting cards to art prints!
And last up for today, another strong debut exhibitor – Paper Bandit Press – with a wonderful collection of letterpress cards and prints!
 
Check back tomorrow for more from the 2014 National Stationery Show!
Photo Credits: Oh So Beautiful Paper