Happy Monday everyone! I'm thrilled to start the week with these darling baby announcements! I've known Kathryn from Snippet & Ink since before I even started OSBP, and we've often bonded over our shared love of beautiful paper. When Kathryn welcomed her daughter Caroline last spring, she turned to the talented Cynthia Warren to create a storybook birth announcement – with stunning results!
From Kathryn: Since Caroline was due in early June, I thought it would be fun to incorporate something seasonal and sweet like strawberries. I also love some of Cynthia's storybook lettering. But really, along with about five images for inspiration, that was all the direction I gave her – Cynthia is so incredibly talented, and has such a unique style, I wanted to let her work her magic without me micromanaging things.
From Cynthia: With her baby girl arriving in late Spring/early Summer, Kathryn wanted strawberries to be part of the design. She also wanted my hand-lettering style to be reminiscent of vintage children's books. With such a sweet color palette we thought it would be great to tie the announcements and Caroline's photograph into little bundles with red and white twine. The envelopes were addressed in the perfect grass green ink by the fabulous calligrapher and artist, Maybelle Imasa-Stukuls. Maybelle's charming style added such elegance and whimsy.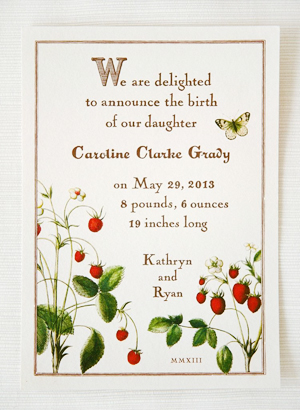 From Kathryn: Maybelle's whimsical calligraphy was an obvious choice (she also did the day-of calligraphy for our wedding and I absolutely love working with her), and we went with grassy green ink to play off the strawberry leaves in the announcement.
Something you can't see in these images is that once the stamps were cancelled, the butterfly on the front of the envelope was almost perfectly perched on the end of the cancellation mark. I loved this little detail that Cynthia put in!
Thanks so much Kathryn!
Design and Letterpress Printing: Cynthia Warren
Calligraphy: Maybelle Imasa-Stukuls
Photo Credits: Christina McNeill