When these two botanists decided to get married in the Arizona desert, they turned to Arley-Rose and Morgan of Ladyfingers Letterpress to incorporate their favorite plant specimens into their wedding invitations. Paired with Arley-Rose's signature hand lettering, the invitation suite features desert cacti and floral illustrations – all letterpress printed in desert-inspired hues of pink and orange. So pretty!
From Arley-Rose and Morgan: Emily and Mike are a lovely couple whose botanical passions inspired the look and feel for their entire wedding. When they showed us photos of the beautiful Arizona desert landscape where they will have their ceremony, they pointed out each plant specimen in the photo with great excitement – as if they were characters in their favorite book! 
We knew that integrating the objects of desire of these two botanists would be a focal point for the wedding invitations. They sent us tons of photos of desert cacti and gorgeous blossoming flowers that I didn't even know existed! Emily said that she was especially smitten with the Globe Mallow, which we letterpress printed into the envelope liner.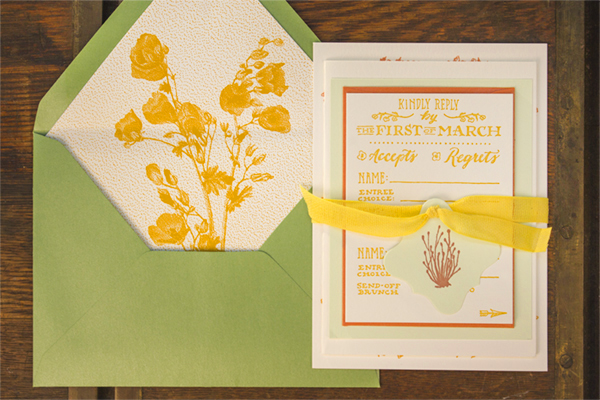 The suite was tied together using a loose weave Italian ribbon and decorated with a letterpress hang tag that featured an illustration of one of their favorite desert cacti. The main invitation is bordered with a delicate botanical illustration and letterpress printed with a rainbow roll effect that evokes a late summer pink-to-orange desert sunset. The RSVP card was multi-tiered for guests who were RSVPing for different events. Also included was a double sided send off brunch and a rehearsal dinner card that was letterpress printed on a soft mint green paper.
The suite also included an extensive info booklet that gave information on where to stay, what sort of weather to expect, and a handy map of the area since GPS is unreliable in that neck of the woods.
Thank you so much ladies!
Design + Letterpress Printing: Ladyfingers Letterpress
Italian Cotton Ribbon: Studio Carta
Ladyfingers Letterpress is a member of the Designer Rolodex – check out more of their beautiful work right here or visit the real invi­ta­tions gallery for more wedding invitation ideas!
Photo Credits: Ladyfingers Letterpress