Today we're taking a quick trip back in time… to our baby shower! The ladies at On To Baby were kind enough to feature our shower yesterday, and I thought I'd share a few of my favorites here. My dear friends Janice and Maggie hosted the most beautiful shower for us, inspired by my love of all things constellation! Funny story: because I ended up having to be induced with Sophie 3 weeks early, our baby shower took place the DAY before we went into the hospital for the induction. Those last few days were a complete blur of anxiety and nerves, so it was really nice to have a day to spend with our friends and family before Sophie's arrival!
Sugar Paper did an amazing job with the invitations, incorporating gold and white foil on die cut kraft paper, calligraphy from Lisa Holtzman, and a custom constellation envelope liner. Janice worked with Verde Studio to select astronomy-themed vintage postage as the finishing touch.
We're not the most traditional of people, so we wanted an informal co-ed shower that gave us an opportunity to spend time with our friends and family. Janice asked her sister (a private chef) to put together a buffet of our favorite brunch food, and Andy came up with a trio of brunch cocktail recipes. There was also a coffee bar and dessert bar featuring cupcakes and macarons from our local favorite The Sweet Lobby.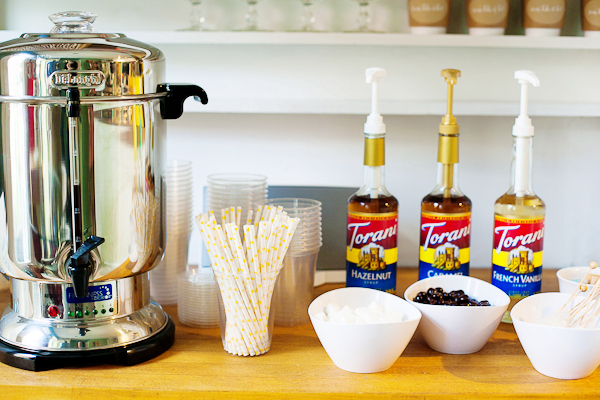 This is Maggie and Trevor's pup, Eleanor, when she was just a tiny wee thing! I think it should be mandatory to have at least one puppy at every party.
Thank you, thank you, thank you Maggie and Janice! Check out the full details over on On To Baby!
Event Planning: Bellwether Events and Maggie Adams
Invitation Design: Sugar Paper
Invitation Calligraphy: Lisa Holtzman Calligraphy
Day-of Calligraphy: Meant to Be Calligraphy
Postage: Verde Studio
Catering: Leslie Raybuck
Desserts: The Sweet Lobby
Photo Credits: The Observatory