I received the sweetest email from Caroline of Lovely Paper Things with an even sweeter wedding invitation for a couple that reconnected after 40 years apart! For their wedding invitations, Caroline combined their love of Arizona and aviation for a beautiful "Adventure in Love" theme – which was carried through to the wedding menus and seating cards. The design features an ombre watercolor pattern evoking the Arizona sunset, hand cut fringe on the invitation, and lots of pretty hand lettering.
From Caroline: From the very beginning, there was something magical about Trisha and Richard's love story. The couple went to high school together, followed different paths but kept in touch, and over 40 years later they fell in love! (How neat is that?!!) They came to me looking for a whimsical wedding invitation. We decided that uniting their passion for aviation and  the welcoming Arizona vibe they love so much would create a marvelous "An Adventure In Love" theme to help them share their unique love story!
 
Their adventurous suite incorporated many elements of flight with a fresh and vibrant southwestern twist. The ombre watercolor background, inspired by the beautiful Arizona sunsets, the hand lettering, hand stamped tags, envelopes and hand cut fringe all exude Arizona's cheerful spirit.
And oodles of hand painted illustrations of aviation aspects from compasses and mini tickets to pilot wings and birds eye view maps had their guests ready to celebrate the couple's Adventure In Love!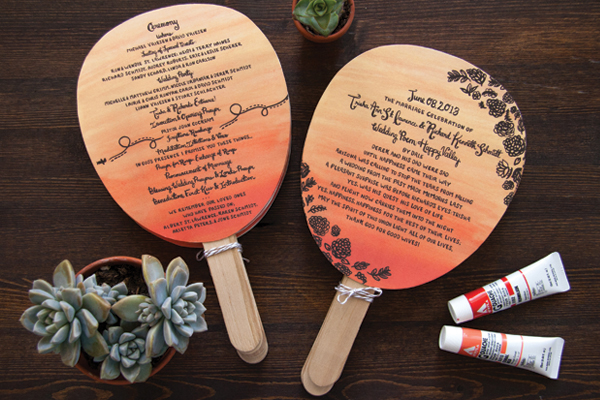 Thanks so much Caroline!
Check out the Designer Rolodex for more tal­ented wed­ding invi­ta­tion design­ers and the real invi­ta­tions gallery for more wedding invitation ideas!
Photo Credits: Lovely Paper Things