The team at Atelier Isabey is known for really intricate wedding invitations, and these New Year's Eve invitations are no exception! Margot from Atelier Isabey wanted to bring an extra sense of opulence to the design, so she incorporated gold foil and a deep aubergine color palette along with letterpress printing and lasercut details. Gorgeous!
From Margot: For a wedding taking place on New Year's Eve we decided to bring big drama and opulence to this invitation suite using a variety of mixed media printing techniques and papers. The invitation is printed with a combination of deep letterpress and gold foil and slides inside an ornate aubergine laser cut sleeve.
We also created a one of a kind coat of arms fashioned from meaningful details and symbolism surrounding the couple. The groom was from India so we added details like a peacock (a national symbol of India) and lotus flower on their coat of arms.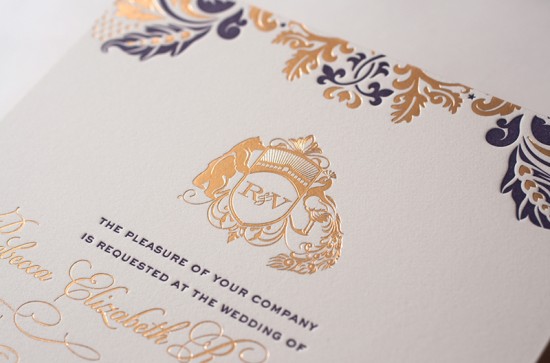 The bride on the other hand was from California and went to University of California so we put a regal Golden State bear to symbolize her on the opposite side. Last but not least, he proposed to her on the Rialto bridge in Venice, thus the bridge connecting both sides together symbolically. The final presentation was as luxurious as it was unique!
Thanks Margot!
Check out the Designer Rolodex for more tal­ented wed­ding invi­ta­tion design­ers and the real invi­ta­tions gallery for more wedding invitation ideas!
Photo Credits: Atelier Isabey