Happy Monday everyone! Have you recovered from your Thanksgiving food coma yet? I'm still a bit groggy myself, but I'm thrilled to be starting the week off with Megan and Mike's gorgeous wedding stationery from Nichole at Coral Pheasant – starting first with their save the dates! Nichole created a fun trifold design incorporating their save the date photos, but I'm particularly smitten with the unique envelope layout!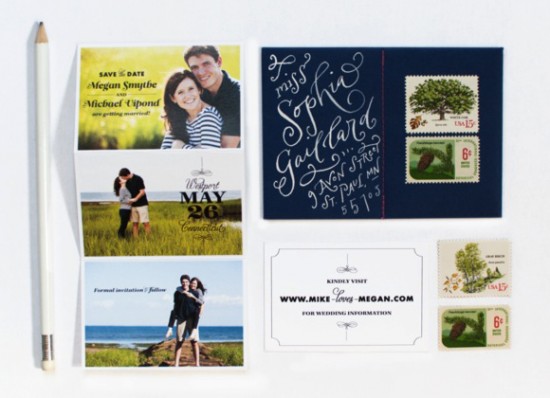 From Nichole: Megan and Mike's sea­side engage­ment pho­tos were the jump­ing off point for their save the date inspi­ra­tion. To bring in an ele­ment of play­ful­ness and dis­cov­ery, I cre­ated two pock­ets by sewing the enve­lope in half. One side housed a tri-fold card of their pho­tos and the other side ­contained a card with their wed­ding web­site infor­ma­tion.
A striped fuch­sia enve­lope liner coor­di­nated with the fuch­sia stitch­ing and quirky cal­lig­ra­phy by Crys­tal Kluge com­pleted the look. How could you not be excited to reserve the date for this dar­ling duo?!
I'll be posting Megan and Mike's seriously awesome wedding invitations next – so check back soon!
Check out the Designer Rolodex for more tal­ented wed­ding invi­ta­tion design­ers and the save the date gallery for more save the date ideas!
Photo Credits: Coral Pheasant