Personal handwriting is such a unique thing; your hands, fingers, the way you hold a pen, it all contributes to the way ink flows to a page.  Nicole Black of The Left Handed Calligrapher, who is actually left handed, has created a name for herself and her rare ability.  (Studies suggest only 10-15% of the population is left handed!)  I think it adds a little charm to her writing style that draws me in.  And I'm certainly not the only one!  With work featured in Traditional Home Magazine, Martha Stewart Weddings, and on the Today Show, Nicole's work is no stranger to the spotlight.  – Julie
Although some of her work is modern, a few projects show a truly elegant, traditional style. Â Beautiful isn't it? Â Perhaps she's so skilled having studied under one of the chief White House calligraphers.
Nicole's writing style is so delicate and light. Â At times, it's almost as if the paper was kissed with a tiny thread of ink.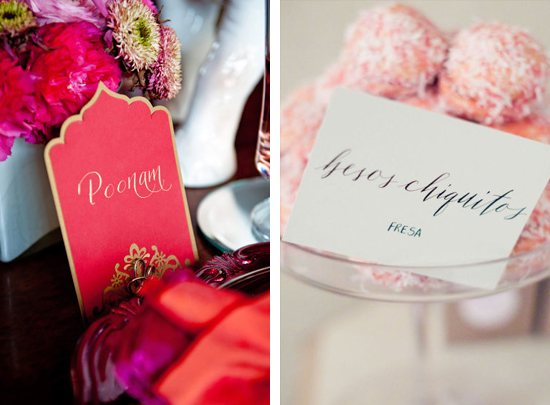 If you'd like to see more work by Nicole, make sure you check out her website and blog. Â She has also kindly put together a guide to social mailing etiquette to help you navigate the dos and don'ts, as well as a guest list worksheet.
Photo credits: 1 Bespoke Press; 2 Bobbi and Mike; 3 Renee Sprink Photography; 4 The Left Handed Calligrapher; 5 (left) + 6 Greg Blomberg Photography, Thisbe Grace Photography (right)