Search Result for "
woodgrain

" — 45 results

Woodgrain is one of my favorite textures for wedding invitations: it's such a design chameleon! It can be modern, rustic, whimsical, or even a subtle accent for a formal invitation to a black tie affair. Lesley from Inclosed Studio designed these sweet invitations for a backyard barn wedding, incorporating the woodgrain texture into a black and white design with neutral accents and a bright envelope liner. So pretty!
From Lesley: Katie and Andrew's invitation is letterpress printed with a blind wood grain impression. The information was then letterpress printed on top with black ink. The couple was having a backyard barn wedding and we knew we wanted to incorporate woodgrain, but wanted it to be subtle and pretty.
We love the simplicity of the design and neutral color palette combined with the pop of color in the envelope liner.
Thanks Lesley!
Inclosed Studio is a member of the Designer Rolodex – you can see more of their beautiful work right here and visit the real invi­ta­tions gallery for more wedding invitation ideas!
Photo Credits: Inclosed Studio
I'm finally starting to see some color around DC in the form of bright yellow daffodils and tiny pink blossoms, and this time of year I just want to hug anything floral in the hope that spring will arrive even sooner. Jessica from Moira Design Studio sent over these pretty floral and woodgrain invitations that she designed for a recent wedding. Each motif was hand painted, and the envelopes also feature lovely Moira Ink calligraphy. Pretty!
From Jessica: We have been obsessed with exploring other mediums in our design work (aside from our computer) and decided to get back to our roots and hunkered down with some paint and a jar full of brushes. Our timing was rather spot on, as this lovely bride approached us for a rustic and organic invitation with artistic roots – something unique and soulful.
She was really looking for a piece to give an impression of the relaxed, homey and intimate feel of their wedding. The couple is to be wed under a massive, gorgeous old oak tree beside a nearly equally as old stone house. The entire reception area is surrounded by lovely old trees, crickets singing, and a fire pit to keep the guests toasty. A venue completely befitting to them!
All the graphics for her invitation are custom painted, differing piece to piece and included clusters of blush flowers, trailing leaves, and rustic wood grain. The backs are also printed either with flowers or the wood grain pattern and envelope liners to match.
Each piece was printed on super thick cotton stock. All the envelopes were also printed with a matching motif, and we added a personal touch and addressed each envelope in calligraphy to boot… truly a suite to set the tone for their nuptials!
Thanks Jessica!
Design: Moira Design Studio
Invitation Text Font: Lady Rene
Calligraphy: Moira Ink
Check out the Designer Rolodex for more tal­ented wed­ding invi­ta­tion design­ers and the real invi­ta­tions gallery for more wedding invitation ideas!
Photo Credits: Moira Design Studio
I love texture in wedding invitations; it's one of the reasons I'm drawn to letterpress printing overall, and I particularly love blind impression (no ink) elements in letterpress cards and invitations.  Jaime and Anthony's mountain wedding invitations by designer Kate Holgate are full of beautiful texture, from the woodgrain enclosures to the muslin bags (in lieu of traditional internal envelopes) to the beautiful blind impression details and patterns.  So very lovely.
Check out Jaime + Anthony's wedding invitations right here!
Check out the Designer Rolodex for more tal­ented wed­ding invi­ta­tion design­ers and the real invi­ta­tions gallery for more wedding invitation ideas!
Photo Credits: Kate Holgate
These gorgeous and woodsy wedding invitations come to us from Sally at La Happy, designed for an outdoor wedding in Washington state this past summer.  Sally kept the actual invitation simple and relaxed, bringing in hand stamped website cards and beautiful vintage stamps (not to mention stunning calligraphy) to pull the entire invitation suite together.
From Sally: I created this invitation for an outdoor rustic wedding in Winthrop, Washington, which is in the backwoods of Washington State.  The inspiration was the groom's love of all things outdoors: camping, hiking, etc.  The bride and groom wanted a rustic wedding with a non-fussy, vintage feel, so we tried to incorporate that into the paper design.
The colors of the wedding were really earthy.  Mustard yellow was a key color, then we brought in the stone gray as a neutral color to complement the yellow.  I created the "deer logo" for the wedding and then made a custom stamp out of it and stamped all of the paper pieces.  The invitation was printed on faux bios (a faux wood grain) paper, to relay the feel of the woods and the outdoors.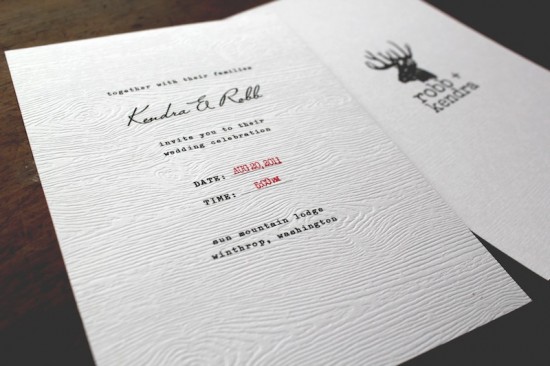 I created custom stamps to look like an industrial time stamp to use for the date and time of the wedding.  The bride and groom wanted to make sure the invitations did not feel fussy, so we made sure everything had a more industrial, vintage feel.  The RSVP card is a postcard with vintage stamps.  We worked with the lovely (and SO helpful) Virginia Sauder of Verde Studios to find the perfect vintage postage to fit the set.
Thanks Sally!
Invitation design + calligraphy: La Happy
Vintage Stamps: Verde Studio
Check out the Designer Rolodex for more tal­ented wed­ding invi­ta­tion design­ers and the real invi­ta­tions gallery for more wedding invitation ideas!
Photo Credits: La Happy
I love, love, love the texture in these beautiful woodgrain and overall nature-inspired wedding invitations from designer Kate Holgate.  Kate's clients Jaime and Anthony are planning an outdoor wedding in Sun Valley, Idaho and wanted an invitation that reflected the natural surroundings while preserving the elegance of the event.  The entire suite just comes together perfectly – from the woodgrain elements to beautiful blind impression details to gorgeous typography to soft muslin bags.
From Kate: Jaime and Anthony are getting married outdoors in the beautiful historic Sun Valley, Idaho. Sun Valley is a laid back resort town surrounded by gorgeous mountains with numerous aspen groves. Jaime was open to ideas and only requested that I somehow tie in an 'aspen' theme.  Her wedding colors are coral and khaki, and I introduced teal to the invitation color palette.
The save the date cards have a tree ring timeline in blind letterpress showing important dates in Jaime and Anthony's relationship.  For the invitation suite, I created a pattern that repeats the aspen leaf symbol (also blind letterpress), a wood grain texture, and used vintage-inspired typography.  Stamped muslin bags replaced the traditional inner envelope.  The overall result feels elegant and natural.
Beautiful work Kate!  Thank you so much!
Designer: Kate Holgate
Paper: Crane Lettra (Soft White) and French Pop-Tone (Raspberry)
Print Studio – Save the Dates: Paper Mill Designs
Print Studio – Invitations: Studio on Fire
Photo Credits: Kate Holgate