I've been a huge fan of Minted for years – and I've loved watching their product selection expand to include letterpress printing, gold foil, and now even fabric, art prints, photo artwork, and home décor! Minted works with a diverse and ridiculously talented roster of independent designers around the world. I love that they provide a platform for both established designers and freelancers that have tons of talent but perhaps don't have the time to take on custom design projects and clients. It's seriously such a great resource. Minted has offered letterpress wedding invitations for a few years now, and today they asked me to share a few of my favorites from their Minted Letterpress collection! Plus they're sharing a behind-the-scenes peek at their letterpress printing studio and offering a 15% discount for OSBP readers! Yay!
Minted Letterpress combines the artisanal letterpress printing process with modern wedding invitation designs from their community of independent artists to create a unique, beautiful, and completely customizable invitation collection. And I love that they offer FREE wedding websites in matching designs. When you put that much effort into selecting the perfect invitation design, you also want your wedding website to match!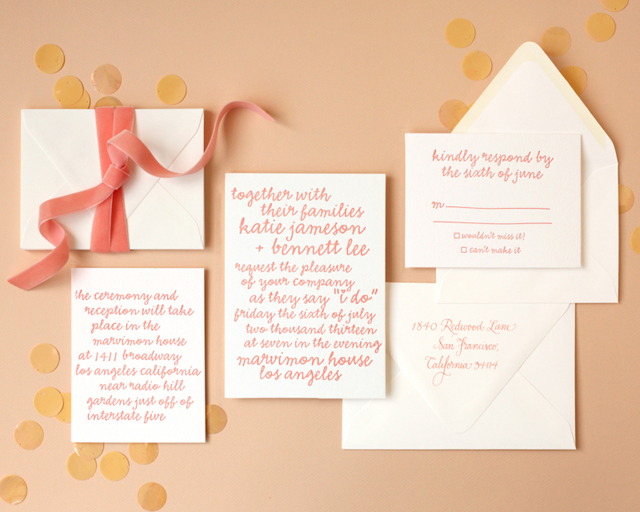 Minted put a lot of careful time and effort into selecting the details for their letterpress collection. They chose 100% cotton paper for its soft feel and porous texture that delivers a deep, hand-printed impression. They offer an extensive color palette with more than 40 colors that can be used in any combination, making each design completely unique. And in case all these choices sound super overwhelming, don't worry. Dedicated Minted design consultants specialize in making each invitation perfect and will work with you to help create your design vision, from start to finish – all at an affordable price.
Like other letterpress studios, each and every Minted Letterpress wedding invitation is produced by an individual press operator, who hand feeds each piece of paper into antique Heidelberg presses to achieve a unique impression. In an age of digital everything, letterpress is a throwback to slower days and a focus on quality workmanship. Every letterpress invitation has a printer behind it who is responsible for everything from hand inking the press, setting it up, and checking each invitation as it comes off the press. Here's a little peek into the Minted print shop!
You just can't beat the tactile feel of a letterpress printed wedding invitation!
Minted is generously offering 15% off letterpress wedding invitations for OSBP readers with the code OHSO15WED through Tuesday, October 6!
This post was created in partnership with Minted. All opinions are my own. Thank you for supporting the sponsors that make Oh So Beautiful Paper possible!