Happy Monday everyone! After a beautiful spring weekend, I'm ready to start the week with these hand lettered wedding invitations from Arley-Rose and Morgan of Ladyfingers Letterpress! With a classic navy and gold color palette, these invitations combine elegant gold foil with rustic kraft paper and whimsical hand lettering. Gorgeous!
From Arley-Rose and Morgan: Kate and Alex's wedding will be held at the historic Presidio Chapel in San Francisco, and they wanted to capture the sophistication and elegance of their wedding while giving their guests something to hold onto and cherish forever. We had been working with Kate and Alex since their save the dates, which we letterpress printed onto kraft CD sleeves and then lovingly stuffed with CDs filled with their favorite jams!
For their gold and navy color scheme, we hot foil stamped gold foil onto a soft navy paper. The rest of their suite was letterpress printed in navy onto kraft paper, 110lb Crane Lettra paper, and shimmer gold paper. Their suite was wrapped in the kraft paper belly band and housed in a shimmer gold-lined kraft paper envelope.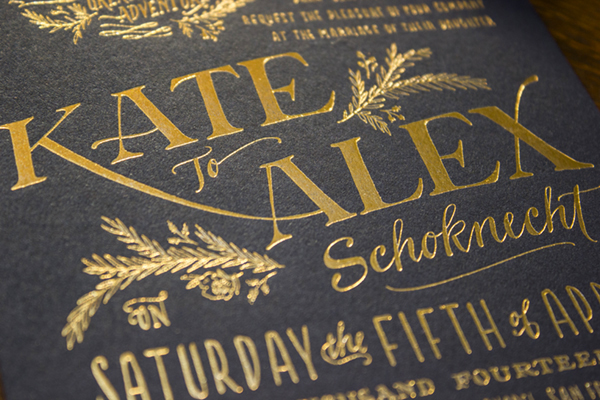 The phrase, "True Love is the Greatest Adventure," graces the top of their invitation, reminding their loved ones that the best is yet to come!
Thank you so much ladies!
Ladyfingers Letterpress is a member of the Designer Rolodex – check out more of their beautiful work right here or visit the real invi­ta­tions gallery for more wedding invitation ideas!
Photo Credits:Â Ladyfingers Letterpress