You already know how much I love wedding invitations, but I also love day-of wedding stationery – place cards, ceremony programs, menus, and all sorts of other fun papery goodness.  Today we're rounding up some of the prettiest and most creative ideas as inspiration for all of you, starting with escort card and place card ideas!  There are so many ways to get creative with escort and place cards for your wedding that everyone can find something that fits in with their style or theme.
You can't go wrong with a silhouette escort card for a classic wedding (left), and this "seating cards in a bottle" idea is so creative! Â Both from Martha Stewart Weddings
Beautiful calligraphy and neutral cards by Neither Snow
I want to go to a wedding that features these adorable button escort cards! (left)  Equally adorable is using a typewriter to type each person's name and then attaching a vintage typewriter key (right).  Both via Martha Stewart Weddings.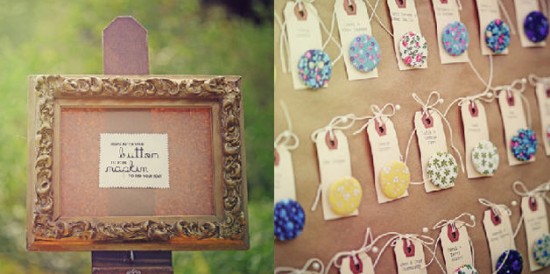 Another button idea, perfect for a rustic wedding. Photo by Max Wanger via Elizabeth Anne Designs.
This escort booklet idea is so versatile – featured in Martha Stewart Weddings (left). Â Photo of cupcake escort card by Jill Thomas, card by Posh Paperie via 100 Layer Cake (right).
How cute are these pinwheels for a whimsical, outdoor wedding? Photo by Jessica Stout via Style Me Pretty.
Love the color and types used in these cards.  Ruby and Willow via Oh So Beautiful Paper.
Great color and visual impact in this example; perfect for a casual wedding. Â Photo by Studio Nouveau, escort cards by Strong Studio via Ruffled.
These fabric escort cards (left) were DIY'd by the bride and groom – so creative!  Photo by Brett Buchanan via  Style Me Pretty.  I also love the idea of beautiful calligraphy on green apples for a fall wedding (right).  Photo by Meg Perotti, calligraphy by Calligraphy Katrina via Style Me Pretty.
These wrapped succulents are perfect for weddings, showers, Sunday brunches… Â Photo by Mary Swenson via Somewhere Splendid.
Skeleton keys and satin ribbon – so romantic! Â Photo by Kate Headley via United With Love.
Stay tuned for more beautiful escort and place cards!
p.s. Do you know the difference between place cards and escort cards?  Simply put, escort cards guide your guest to their designated table, while place cards help guests find their assigned seat.  Escort cards are typically placed at a central location at the entrance to the reception.  Guests will find their card, then locate their table based on the number indicated on the card.  Place cards, which are only necessary if you have assigned seating at your reception, sit at each individual place setting – hence the name!
{images via their respective sources}