Search Result for "
lahappy

" — 7 results

Today I'm loving all these pretty calligraphy goodies from Sally at la Happy – from the gold foil cards to the pastel rubber stamp pads:
Check out more over at la Happy!
la Happy is a member of the Designer Rolodex – check out more of Sally's beautiful work right here!
Photo Credits: la Happy
Hello! My name is Sally and I am the designer behind la Happy, a calligraphy and design studio specializing in custom wedding invitation suites and other paper goodness. I love creating beautiful, thoughtful invitations with a slight whimsy to them. It is important to me that your project reflects you and your day. I love traditional designs and I love incorporating my calligraphy into invitation sets. I really love a good metallic foil and I am a total sucker for bold patterns. I work on all sorts of calligraphy projects as well including envelope addressing and escort/place cards.
I am a graphic designer and calligrapher, so I am able to keep everything under one roof, which gives each project a coherent feel and makes life easier for you! I am able to print letterpress, flat/digital, offset, metallic foil… the sky is the limit. I love dreaming about new projects. I print everything in a professional, local print shop. I work with the best of the best to make sure every detail of your project is perfect.
I would love to chat with you about your project or calligraphy needs. Please visit my site and drop me a line!

Today, I'm happy to be sharing the work of la Happy's Sally Balt. Sally is a designer and calligrapher of gorgeous custom paper goods. I immediately fell for her charismatic writing style; it's so playful and lively. Perusing her blog, you can see her work is only getting better. There's no doubt we'll be seeing many more beautiful creations from la Happy in the future. A girl this talented is going places!  – Julie
I love the way Sally amped up the fun factor here, playing off her whimsical style with juicy bursts of colour. (Not to mention, a little bit of humour!)
Lucky us! la Happy also has a shop filled with custom stamps. I particularly like the Thank You stamp, don't you?
Don't forget to follow along la Happy on Facebook for more sneak peeks into her work, as well as her blog for more visual treats!
Photo credits: 1, 3 left, 5 La Happy; 2,6 Chantal Andrea; 3 right Woodnote Photography; 4 Jasmine Star; 7 Julie Harmsen Photography
Design credits: 1 ; 2, 4, 6 design La Happy, 7 design: Finch and Thistle Events
Sally from La Happy sent over her personal holiday cards – and I just couldn't resist sharing them! In addition to the adorable photo, I'm loving the bright and cheerful color palette, quirky calligraphy, and the ikat envelope liners (wrapping paper from Mr. Boddington's Studio!) are just the perfect finishing touch!
From Sally: These are the Christmas cards that my husband and I sent out to friends and family this year. The cards were letterpress printed on heavyweight cotton Savoy 236lb brilliant white paper in cherry red ink. I mounted a photo of my husband and myself from a tree farm photo shoot onto the front of the cards. The envelopes are soft cotton brilliant white, addressed with cherry red calligraphy and lined with red ikat wrapping paper.
Thanks Sally!
Design + Calligraphy: La Happy
Letterpress Printing: Ilfant Press
Portrait Photo: Kate Price Photography
Envelope Liners: Mr. Boddington's Studio Ikat Wrapping Paper
Photo Credits: La Happy
These gorgeous and woodsy wedding invitations come to us from Sally at La Happy, designed for an outdoor wedding in Washington state this past summer.  Sally kept the actual invitation simple and relaxed, bringing in hand stamped website cards and beautiful vintage stamps (not to mention stunning calligraphy) to pull the entire invitation suite together.
From Sally: I created this invitation for an outdoor rustic wedding in Winthrop, Washington, which is in the backwoods of Washington State.  The inspiration was the groom's love of all things outdoors: camping, hiking, etc.  The bride and groom wanted a rustic wedding with a non-fussy, vintage feel, so we tried to incorporate that into the paper design.
The colors of the wedding were really earthy.  Mustard yellow was a key color, then we brought in the stone gray as a neutral color to complement the yellow.  I created the "deer logo" for the wedding and then made a custom stamp out of it and stamped all of the paper pieces.  The invitation was printed on faux bios (a faux wood grain) paper, to relay the feel of the woods and the outdoors.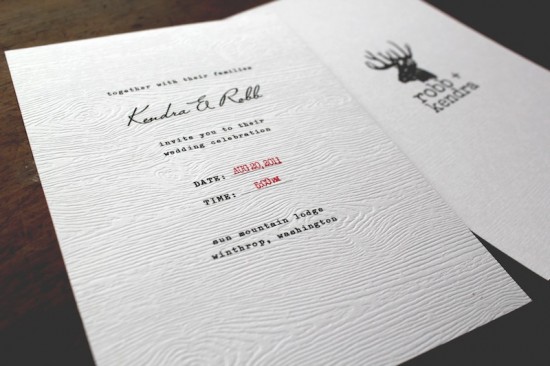 I created custom stamps to look like an industrial time stamp to use for the date and time of the wedding.  The bride and groom wanted to make sure the invitations did not feel fussy, so we made sure everything had a more industrial, vintage feel.  The RSVP card is a postcard with vintage stamps.  We worked with the lovely (and SO helpful) Virginia Sauder of Verde Studios to find the perfect vintage postage to fit the set.
Thanks Sally!
Invitation design + calligraphy: La Happy
Vintage Stamps: Verde Studio
Check out the Designer Rolodex for more tal­ented wed­ding invi­ta­tion design­ers and the real invi­ta­tions gallery for more wedding invitation ideas!
Photo Credits: La Happy