The first set of real wedding invitations come to us from Tina at Joie Studio, a custom letterpress studio in Los Angeles, California.  Tina recently printed the wedding invitations for actress Constance Zimmer's October wedding.  Designed by art director Eliza Kenan, the invitation features a gatefold layout with custom silhouettes and other personal details in a navy blue color palette, as well as a double-sided rsvp postcard: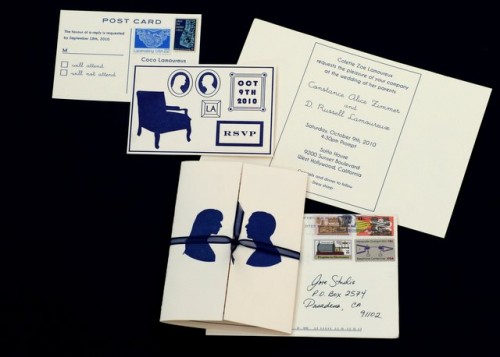 Constance and Russell chose to have their daughter host the wedding for the invitation wording – too cute!
Constance even used vintage stamps on the outer envelopes – do actresses read wedding blogs, too?
Constance loved the invitations so much, she also had Tina screen print a few vintage handkerchiefs to give to her bridesmaids as gifts.  Aren't they pretty?
Too cute!  Thanks so much for sending these over Tina!
Looking for more wedding invitation inspiration? Don't for­get to check out the real invi­ta­tions gallery for even more wed­ding invi­ta­tion inspiration!
{image credits: joie studio}