Today's real invitations come from Ivana, which she designed herself for her wedding last year, and they're completely cheery and a perfect way to help end the week.  Plus, how cute are Ivana and David??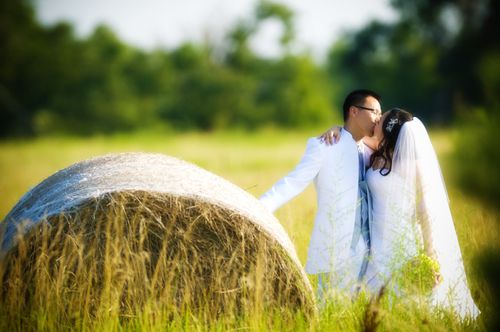 Ivana designed the invitations around the concept of their long distance relationship and David's career as an accountant and passion for crunching numbers, coming up with the beautiful idea of telling their story through a sense of time and distance illustrated by numbers.
From Ivana: The invitation is long to connect with the "long distance" relationship concept. The whole suite was packaged in a box, on the bed of sisal grass to portray the location of the wedding, which was at a chapel in a rural farm area in Oklahoma. The pattern design was inspired by Indonesian batik, to include a touch of our home country:
Aren't these invitations just the sweetest thing ever?  Ivana also sent over some photos from her wedding, courtesy of Seize the Day Photography, so that we could see how she incorporated design elements from the invitation into the wedding day – from the ceremony programs hung on chairs to the signs and labels for the guestbook and candy buffet:
Thanks so much for sharing your invitations Ivana!  You can also check out more of Ivana's work over on Love Ardently.
And just because I can't resist, here are a couple more photos of Ivana and David being cute as a button:
{photo credits: wedding photos by Seize the Day Photography; invitation photos by Love Ardently}