We're moving full speed ahead with coverage from the National Stationery Show! This recap includes several new exhibitors that I was excited to meet in person after admiring their cards from afar – Thimblepress, Ink Meets Paper, and Emily McDowell – alongside returning veterans like Hammerpress, Smock, and Maginating. So much beautiful stationery, from debut exhibitors and veterans alike!
LOVE these hand lettered offset and letterpress printed cards!
So, so good.
The three cards above are some of my favorites from the whole show! Illustrated by Emily, and letterpress printed by Allison of Igloo Letterpress.
As if gorgeous stationery and beautiful wedding invitations wasn't enough eye candy, I'm head over heels for that tassel garland!
The ladies of Farewell Paperie just launched a brand new party collection with everything you could possibly need for any shindig, from napkins and coasters to drink tags, confetti cones, and placemats!
Next stop – the beautiful ribbons of Studio Carta and letterpress stationery from Albertine Press!
Angela's metallic ribbon is even MORE beautiful in person!
New volumes in the city notes collection – including Paris!
Maginating won the Louie Award for Card of the Year – for the second year in a row! The gold foil card above was the winner – congrats Brad!
Love the new gift wrap sheets and gift tags!
Still in awe over the paper cone garland – made from some of Smock's new gift wrap patterns – which stretched across the entire booth and wrapped around the exterior corner wall!
So many pretty new cards – and lots of metallic foil throughout the collection!
Gorgeous new wedding invitations – and the option for digitally printed envelope liners! You know I love anything with constellations!
I'll be back in just a bit with more from the 2013 National Stationery Show!
Photo Credits: Nole Garey for Oh So Beautiful Paper, please ask permission prior to reposting any photos
The National Stationery Show is spread out over something like 30 different aisles, each with 30-60 booths along the aisle depending on the size of the booths and length of that particular row. Sometimes I can breeze through a row and visit only 1 or 2 booths, and sometimes it takes me HOURS to get through a packed row. This year it seemed like there were a lot of really packed rows, and today I thought I'd take you on a little walking tour of one row in particular: the 2000 row! This row was full of some amazing letterpress printers, all friends and many former exhibitors with the Ladies of Letterpress. The booths contain everything from sweet illustrated cards to colorful modern cards to some of the funniest cards at the entire show. See how easy it would be to get stuck here??
HA!!
More mythical creatures! Rachael has a unicorn and Sasquatch card in her heart silhouette series!
LOVE this new collaboration with calligrapher Betsy Dunlap!
I love Kathryn's growing menagerie of animal die-cut cards: Sasquatch is the newest addition!
I'll be back with more from the 2013 National Stationery Show soon!
Photo Credits: Nole Garey for Oh So Beautiful Paper, please ask permission prior to reposting any photos
Before we jump into a few more booths from the Stationery Show, I have one booth to share from Surtex – a separate licensing show for artists and illustrators that takes place at the Javits Center during the same week. I wish I could spend more time at Surtex, but I made sure to stop by and say hello to the incredibly talented Dinara Mirtalipova at the show. Dinara created some fabric and wallpaper prototypes with her pattern illustrations below – aren't they amazing?? Hopefully someone will step up to produce them soon!
Okay, now back over to the National Stationery Show! Sarah from Fancy Seeing You Here had a delightfully quirky booth with everything from travel-inspired map stationery to fortune telling greeting cards (such a great idea!) to coasters. Totally up my alley!
After taking a break last year, Hello! Lucky was back in a big way at this year's show with a bright and happy booth with tons of new cards! They also recently started incorporating gold and silver foil into their designs – with fabulous results!
COMPLETELY obsessed with these gold foil pattern note cards!
When it comes to colorful cards, no one does it better than the ladies of The Social Type! Their cards never fail to put a smile on my face, and this year they added some beautiful new matchbooks to their collection!
It feels like just yesterday that I stumbled into the debut Printerette Press booth at the 2011 show – I can't believe this was Catherine's third year exhibiting! In addition to her sweet letterpress greeting cards and wedding invitations, Catherine introduced a new seasonal calendar and some of the cutest notepads I've ever seen!
Cutest notepads ever!!
I love the way the team at Egg Press mixes graphic patterns, whimsical illustrations, and die cut shapes – often in the same card! Their booth was full of colorful greeting cards, some fun new everyday greeting cards, and pretty gift wrap.
Next up, the wonderful illustrated cards from Dear Hancock! I'm already a huge fan of their "from the desk of" and unconventional workstation cards, along with their bunny and truck card series. This year they added a monthly calendar and some fun new notepads to the mix!
Last up for today, the greeting cards, art prints, and temporary tattoos from Banquet Atelier & Workshop! The mythical creatures print below might be one of my favorite new products from the entire show – I want one for Sophie's room!
I'll be back with more from the 2013 National Stationery Show tomorrow!
Photo Credits: Nole Garey for Oh So Beautiful Paper, please ask permission prior to reposting any photos
Happy Tuesday everyone! I hope you all had a nice and relaxing long weekend! Today I'm ready to jump back into my National Stationery Show coverage with two more recaps full of some seriously gorgeous booths. First up, yet another new exhibitor at the show with lots of screen printed awesomeness: sister companies The Paper Cub Co. and Sass and Peril!
I love the clean and modern style of the greeting cards from The Paper Cub Co.
Sass & Peril is more kid- and home-focused, with animal prints and posters, onesies, and even tea towels!
The Paper Cub Co. / Sass and Peril
I've been a big fan of Brainstorm ever since discovering them at a local craft fair a few years ago – and I was really looking forward to their debut booth at the Stationery Show! I love the warm and cozy vibe they created (complete with a faux fireplace), and of course I love all their beautiful art prints!
This atlas series is one of my all time favorites!
Is it weird if I actually want to move into a booth? Rebekah from Wild Ink Press created the most warm and cozy booth to showcase her beautiful cards – she even installed crown moulding at the top! The walls were lined with all the new collections that Rebekah debuted at the show, from a brand new letterpress calendar to garden-inspired greeting cards to a funny quotations series!
I love the new Otomi and Aztec patterns in Rebekah's textile-inspired collection!
The Letter C Design booth was a happy rainbow of stationery, with boxed note sets, colorful travel journals, and cute little place cards – all with cute white foil printed motifs. I also love love love the kraft paper stickers, including gift tag stickers!
After a strong debut last year, Pei Design has become one of my highlights at the show. This year's collection was largely designed around a Parisian-inspired theme, with art prints, a calendar, and several new illustrated greeting cards. Those gold foil pattern note cards and new gift wrap sheets? Gorgeous!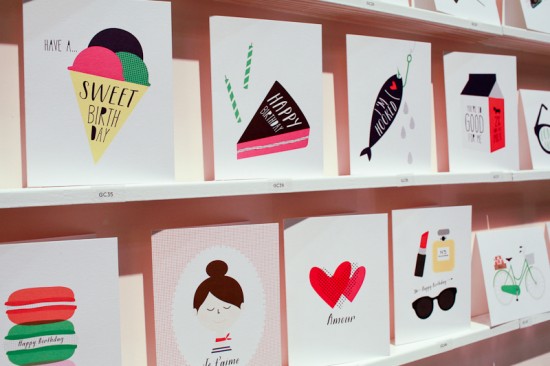 The ladies of One Canoe Two went BIG this year, from the actual booth size (too big to get a single frame shot!) to a bunch of fabulous new products to an absolutely gorgeous new oversize calendar! So so good.
These perpetual calendars come in a gorgeous heirloom wood berry box – and can even be used as a daily journal that you can revisit every year!
It's so fun to see stationers branch out and experiment with new products, and these days I'm particularly excited by the new objects from The Great Lakes Goods. You've probably already seen their color-dipped wood feathers and arrows, screen printed gift wrap, and ribbons, but this year's booth also included color block wood candle holders and the cutest balloons with hand lettered messages – all along with their awesome screen printed greeting cards.
Of course, the National Stationery Show wouldn't be complete without a visit to the Rifle Paper Co. booth! This time around the booth was full of beautiful new art prints, a stunning new garden-inspired calendar, new gift wrap patterns, new greeting card designs – and of course their fabulous iphone cases!
I'll be back in just a bit with more from the 2013 National Stationery Show!
Photo Credits: Nole Garey for Oh So Beautiful Paper, please ask permission prior to reposting any photos
Today I thought I'd share a couple of big booths from the National Stationery Show that are packed full of awesome stationery: the Ladies of Letterpress and Crow & Canary booths! First up, the Ladies of Letterpress – which is really twelve independent stationers packed into one ginormous booth at the show. I totally forgot to take a wide shot of the full booth this year, but you can check out my 2011 recap for a better idea of the layout. Now on to the letterpress awesomeness!
Such a sweet set of cards!
Love this series of cards made from hand carved woodcut designs!
I'm still laughing at the cards above!
The ladies of Crow & Canary represent some of the best stationery lines, so it's no surprise that I always enjoy visiting their booth! There were 14 companies represented in this year's booth, with lots and lots of fabulous paper goods!
Red Cap Cards (left) and Black and White and Red All Over (right)
Candyspotting (left) and Pie Bird Press (right)
Ghost Academy (left) and Greenwich Letterpress (right)
Love the new gift wrap from Greenwich Letterpress!
Gilah Press (left) and Waterknot (right)
I've got LOTS more to share from the National Stationery Show – all coming up next week!
Photo Credits: Nole Garey for Oh So Beautiful Paper, please ask permission prior to reposting any photos