When designing the invitations for her cousin's glamorous vintage-inspired wedding, Jackie of Sincerely, Jackie knew that she wanted to do something really special. The answer? An elegant invitation design with beautiful gold engraving and soft pink letterpress printing. Absolutely stunning!
From Jackie: I created these invitations for my cousin, Christine, who's also one of my best friends. Christine's wedding took place just a few weeks ago was in a gold coast mansion on the Great South Bay of Long Island, New York. With such a breathtaking location, I knew the invitations needed to truly set the stage for the guests.
The wedding was inspired by all things vintage, romantic, and glamorous, with lots of gold and pink, so I knew immediately that I wanted to create a gold and pink invitation done with specialty printing. While I love, love, love gold foil, for Christine's invitations I really wanted to go with something a little more unique and true to the feel of the venue.
We decided to do a mix of printing methods: burnished gold engraving and soft pink letterpress accents. The gold engraving turned out to be the absolute perfect method for printing the invitations, and the contrast between the raised gold and the touches of soft pink letterpress is just divine.
Thanks Jackie!
Check out the Designer Rolodex for more tal­ented wed­ding invi­ta­tion design­ers and the real invi­ta­tions gallery for more wedding invitation ideas!
Photo Credits: Sincerely, Jackie
I always expect something creative and one-of-a-kind from designer Kristy Rice and her team at Momental Designs, and these burlap and watercolor save the dates are no exception! Kristy drew her inspiration from nature, combining hand painted watercolor with white engraved text, burlap, and kraft paper – with stunning results!
From Kristy: The concept for these save the dates was simple but the result; incredibly powerful. We started with the inspiration of rich natural textures, landscapes, and literature. Then we combined richly saturated hand painted watercolor textures with crisp and classic engraved lettering. Mingled with rustic touches of burlap and kraft cardstock, the look is a balance of contrasts and textures.
Kristy even sent over a few behind-the-scenes photos of the watercolor process!
So cool! Thanks Kristy!
Momental Designs is a member of the Designer Rolodex – you can see more of their beautiful work right here or visit the real invi­ta­tions gallery for more wedding invitation ideas!
Photo Credits: Momental Designs
Spring is my favorite season of the year, but I'm really looking forward to Autumn this year.  I can't wait for fall fashion and food, the changing leaves – and of course I have personal reasons to be excited for the upcoming season.  Des from Paper Airplanes sent over one of her newest designs, an elegant invitation inspired by crab apples and engraved on cherry wood veneer.  So pretty!
From Des: The invitation suite was inspired by a rustic organic theme and used a palette of white, green and yellow hues to create a warm autumn feel.  Carrying the circle monogram across all the pieces tied everything together as well as using the vintage crab apple illustration on the response card and program.  The invitation and menu are engraved on cherry wood veneer and truly finish off this organic invitation suite.
Thanks Des!
Check out the Designer Rolodex for more tal­ented wed­ding invi­ta­tion design­ers and the real invi­ta­tions gallery for more wedding invitation ideas!
Photo Credits: Paper Airplanes
You guys, today is such a happy day – I'm absolutely thrilled to help one of my very favorite calligraphers, Bryn from Paperfinger, launch her brand new wedding invitation collection!  Bryn is such a talented and kind lady; she created my beautiful logo that you all see at the top of the page and it's always a treat to feature her beautiful calligraphy.  The new collection is called Ligature, and it's absolutely gorgeous!
From Bryn: We created a collection so that we could create invitations for more clients, build on new designs and offer our clients quicker turnarounds without sacrificing the significance or quality of hand-drawn calligraphy.  The word "ligature" is a great metaphor for marriage.  In type design and lettering, a ligature is the unique letterform created by the combination of two alphabet characters that are connected by a linking stroke or flourish.  The ligature itself becomes a unique and distinct character of its own, made up of the two.
Within the collection, each invitation and individual piece is hand-lettered to order (no digital typefaces!), then expertly produced with letterpress printing or engraving.  The collection will also offer edge painting and original patterned backing featuring hand painted patterns created by Bryn.  For those of you who prefer a more custom approach, Bryn tells me that she plans to continue to offer bespoke design services in addition to the Ligature collection.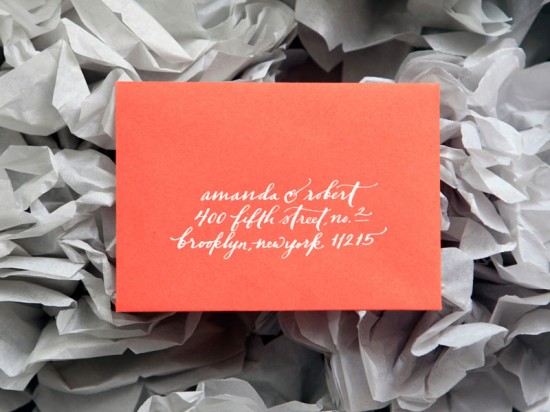 Yay!  Congrats Bryn!
I'm absolutely thrilled to welcome Paperfinger as a member of the Designer Rolodex – you can check out the full ligature collection in the Rolodex right here or over on Paperfinger!
Photo Credits: Dan Eckstein
I think it's so cool when couples incorporate non-traditional materials into their wedding stationery – and save the dates are the perfect opportunity to try something unexpected and unique!  Rachel from Jolie Jolie created these wooden engraved save the date hang tags for a recent couple.  So fun!
Check out more from Jolie Jolie right here!
Photo Credits: Jolie Jolie Design