I love looking through old postcards and letters in antique stores; the handwriting transports you to another time and place. When I first saw the work of Signora e Mare's Katie Decker Hyatt, I got that same feeling. Romantic and organic, Katie's lettering and calligraphy take these pieces to a different world. - Julie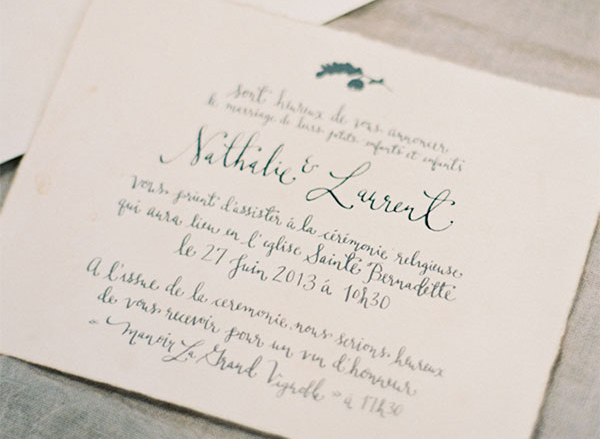 It's amazing how illustrative the work in Katie's portfolio looks. It takes a few seconds for me to realize that I'm looking at a very simple piece brought to life by her writing.
A perfectly lovely birth announcement, don't you think? I love Katie's use of subtle ink colors; the dynamic calligraphy style is enough on its own for that added pop.
You can see more gorgeous calligraphy in Signora e Mare's portfolio and blog. And be sure to keep an eye on her site for the opening of her shop!
Photo credits: 1, 3 l+r, 4, 5, 6 right - Laura Catherine Photography; 2 - Rylee Hitchner Photography; 6 left - Kayla Barker
Thanksgiving is in just a few days, and I wanted to do something a bit special for all of you this year. I'm sure you're all busy making final menu plans or preparing to travel, so I also wanted to keep this simple. I've teamed up with Michele from Meant to Be Calligraphy to offer something to help make your Thanksgiving dinner table just a little prettier!
Michele was kind enough to offer two versions of her beautiful lettering for this printable – so you can pick the style that works best for you! Simply print onto a flat A7 notecard or use the large size version to print onto a letter size sheet of card stock and cut in half. Set a copy at each place setting for guests to fill out, or write a name on the printed card and use as a place card. Enjoy!
For personal use only. Calligraphy by Meant to Be Calligraphy for Oh So Beautiful Paper
Photo Credits: Nole Garey for Oh So Beautiful Paper
I love it when creative friends join forces, which is exactly how Angela Liguori's new Rotolino greetings collection came together! The collection features words calligraphed by artist Susy Pilgrim Waters, then letterpress in charcoal gray ink printed onto long strips of cotton paper by Albertine Press, and finally wrapped around hand dyed wooden spools and secured with red thread by Angela. Such a unique way to send love and wishes to a special person!
The collection currently features two designs: Love (with the words amore, dolcezza, per sempre insieme, ti amo, gioia, abbracci, baci, xoxo) and Holiday Greetings (with the words warm wishes, joy, gratitude, celebrate, best wishes, kindness, peace, season't greetings, xoxox). Each spool measures 2″ by 1.25″ with strips of paper 7/8″ tall and 17″ long. The spools are packaged in kraft paper gift boxes.
Thanks Angela!
p.s. Angela is celebrating the new collection with a giveaway on her blog! Check out the details right here.
Photo Credits: Angela Liguori
The closer we get to the holidays, the more I crave all things glittery and sparkly. I think it's a result of the shorter days and longer nights of late fall and winter! Anyway, I was thrilled when calligrapher Julie Song added these sparkly gold foil coasters and calligraphy art prints to her Etsy shop! As if those weren't enough, she also has some fun prints, iphone cases, and pillowcases in her Society6 shop!
There's lots more in Julie's Etsy shop and Society6 shop!
Photo Credits: Julie Song Ink
This month's calligraphy inspiration comes from the talented Crystal Kluge. With a client list that includes Nordstrom, Target, and Google, Crystal has a wonderful portfolio of work that's sure to please. Never stuffy or dull, her fanciful and dynamic style is perfect for those who have a little skip in their step. – Julie
I really enjoy the added flourishes in Crystal's calligraphy; a great use of space and it transforms letters into art.
As whimsical and playful as it may seem, there's also a sense of ease in the flow of her styles. They're fun but not frilly.
For more peeks at Crystal's projects, be sure to stop by her blog. You can also find her writing in jewelry form at Brevity. as well as in font form over at tart workshop!
Photo Credits: 3 l+r via Hello!Lucky, 6 left Larry Callahan, all others via Crystal Kluge