Allie of Allie Ruth Design and her husband Ryan are expecting their first baby later this year (congrats you two!), and they wanted a fun way of sharing the baby's gender with their family scattered around the country. They put together a sweet little video, burned some DVDs, and Allie printed these DVD covers using a rubber stamp with one of her illustrations. Too cute!
From Allie: For the announcement itself, we made a quirky video, but we needed a cute way to get the news to my family in Florida, and Ryan's family here in the midwest (without giving it away to any of our friends first). So I burned the video onto some DVDs and created this block-printed sleeve in which to send them.
For the block, I had a custom rubber stamp made of one of my calligraphed illustrations. Our last name is Peach, so I was sure to incorporate a cute little peach at the bottom. I printed the image onto blank kraft DVD sleeves. For the envelope, we went with a gender neutral mint, so as to not give away the secret before our families saw the video.
I used my vintage typewriter to print each set of grandparents' names onto little handmade, vintage-inspired tags and tied them on with black and white baker's twine.
Thanks Allie – and congratulations again!
Photo Credits: Allie Ruth Design
Lisa from Good on Paper always makes the most creative birthday party invitations for her son Lucas! First it was a circus-inspired invitation, then a hide-and-seek inspired invitation, and for his 3rd birthday she drew inspiration from Lucas's current favorite: letters and numbers! Lisa created the invitations using some inventive food styling and a few favorite photos of Lucas from this past year. Too cute!
From Lisa: I had so much fun making these. Lucas has really been into reading letters and numbers on everything from books to license plates so this year we threw him a letters and numbers inspired birthday party. For the invitation I basically set up a mini photo shoot with words out of peanut butter and jelly sandwiches (another one of his favorites). It was super easy, fun and tasty.
The gray envelope was custom lined using a recent favorite photo of Lucas "reading" a newspaper. I also designed custom wraparound address labels and a directions card with another photo of Lucas lining up his cars and counting them.
Thanks so much Lisa! And happy birthday Lucas!
Good on Paper is a member of the Designer Rolodex – you can see more of Lisa's amazing work right here!
Photo Credits: Good on Paper
Happy Monday everyone! I'm feeling refreshed after spending the weekend working in our garden, enjoying the beautiful spring weather, and visiting one of my favorite spring spots, the Mount Vernon estate just outside of DC. We're starting the week with some really fun nautical and travel-inspired party invitations from Bonnie at Tenn Hens Design. I'm particularly loving the amazing map envelopes and gold wax seal!
From Bonnie: An event planner in Nashville that we've partnered with over the years, Elizabeth James, came to us with a very special project this past winter. Her client was hosting an intimate party at sea. And not just on any old boat, but a ship. They wanted to treat their guests to a truly unique affair. There were various parties tied around this weekend so we designed two different looks that still complemented one another.
Each invitation was hand delivered in an envelope made from map paper and secured with a gold wax seal. The first invitation was letterpressed on both sides and duplexed (just to make the cotton paper even more luxurious). We ended up adding an addendum tag at the last hour when Hurricane Sandy came into the picture, but mother nature certainly has a way of being unpredictable!
The main invitation was a more subdued palette of warm grey letterpress + gold foil. I adore the look of the foil and the texture it adds.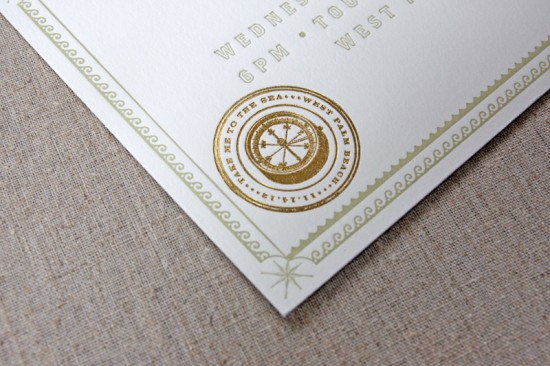 Thanks Bonnie!
Photo Credits: Tenn Hens Design
As a new mom, I was in tears when Jackie from Believe Notes shared the story of new mom Karen and her twin girls – Emma Claire and Gabriella Hope – born 16 weeks premature last summer. Gabriella sadly passed away a couple hours after birth, but her sister Emma fought and grew stronger each day. Emma finally came home after six months in the NICU and her parents decided to send announcements to friends and family. I'm honored to share Karen's story and Emma's announcements today.
From Emma's mom, Karen: Emma Claire and her identical twin sister, Gabriella Hope, were born 16 weeks premature at 24 weeks gestation on Friday, July 13th, 2012. Gabriella's lungs were too immature to survive and she passed away 2 hours after she was born in our arms. We were told it was not likely that Emma would make it, but she continued to defy all odds with each day she spent in the NICU. After 6 months in the NICU, Emma came home on January 11th, 2013. Since we were so consumed with having her in the hospital when she was first born, we didn't get a chance to send out birth announcements. When she started getting close to coming home, we decided we would send out a coming home announcement.
It was important to us that the announcement illustrated how far she had come in her first 6 months so we knew we wanted to include her birth stats as well as her coming home stats. Jackie took our ideas and created the perfect announcement to celebrate our brave little girl!
Thanks so much Karen and Jackie, and big hugs to sweet Emma Claire!
Photo Credits: Believe Notes
I couldn't resist rounding out the week with one more baby announcement! I have all of our hospital bracelets saved in Sophie's baby book at home, so these hospital bracelet baby announcements from Sarah Jane Winter seem like such a great idea! The bracelet opens to reveal a photo of baby William and his loving parents. So sweet.
From Sarah Jane: William's father is a pediatrician that specializes in Neonatology (newborns) so I played with the idea of the new baby coming home from the hospital. A baby hospital bracelet was mimicked with the 'vitals' including name, date of birth, length, and weight. This was wrapped around the card and fastened with a button brad. A blue vellum sleeve wrapped the card.
The card was printed front and back with the photos I took of the family and a simple greeting.
Thanks Sarah Jane!
Photo Credits: Sarah Jane Winter