By the time most couples get around to finalizing their wedding program, they've waited until the last minute. They're also desperately trying to stay within their budget since the big day is right around the corner. But making your own ceremony programs at home doesn't have to yield ho-hum results! In our tutorial today, we'll show you an adorable way to make custom programs every guest is sure to love. – Bailey and Emma of Antiquaria
Step One: First, you'll need to gather your papers together and fold them exactly in half, using a bone folder. The cover of this program uses 8.5″ x 11″ patterned text weight paper (we used a version of our popular Paloma pattern). You could also use a scrapbook paper, so long as nothing is printed on the back side. For the text inside, you can use a design program, such as Illustrator or InDesign or simply use Word to lay out all of your information in two columns. We printed front and back by flipping the paper and re-running it through our home printer. You could also send the file to a copy store and have them print it for you.
Step Two:  Assemble your booklets with the cover on the back and the inner pages in the middle. Use paper clips to hold them together in preparation for sewing. This helps prevent shifting when you're running a stitch down the center.
Step Three: With your needle in the middle position, sew straight down the center fold. Trim off any thread ends after the booklet is finished.
Step Four: We wanted to gussy up our program a bit by adding a little envelope containing home-grown seeds to the front for guests to take home. Instead of leaving the envelope blank, we added the couple's name and wedding date in white calligraphy on the back flap. Don't feel comfortable tackling calligraphy on your own? You could also use a monogram stamp with white ink to get a similar result!
Step Five: Adhere the envelope to the front cover (approximately in the center) using double sided tape or stick glue. We found that our  ATG Tape Gun worked the best on this project.
Step Six: Give your guests a little take away with your program! We spooned hand-harvest seeds into the envelopes so that each guest could plant flowers in honor of the couple. You could also fill the envelope with rice, confetti or anything else you can dream of! Have fun making it suit your own special day.
We also included a little note about the gift in the program itself, "Help our love grow! You'll find hand-harvested seeds in the front envelope. Plant them and share the love." Be sure to also include the type of seeds and some general growing instructions as well, either in the envelope itself or on the back page of your program.
Step Seven: Lastly, you'll just need to close up the envelope so that the seeds don't spill out. We used a fun patterned washi tape, which is easy to remove yet stays put!
Materials
Patterned paper in 8.5″ x 11″ text weight
Text weight paper in sage
Home Printer
Paper Clips
Sewing Machine and Thread – have fun with your thread color selection!
Calligraphy Pen and Ink, or Monogram Stamp and White Stamp Pad
Seeds (or rice or confetti)
Photography: Antiquaria for Oh So Beautiful Paper
We've been having an unusually cold winter here in Texas and all of these winter storms have us dreaming of warmer places. With destination weddings more popular than ever, this travel inspired save the date is sure to excite your guests and have them booking their flights pronto. Our favorite part of this design? The one-of-a-kind vintage maps we used for the liners! – Bailey and Emma of Antiquaria
Step One: First of all, you'll need to stamp your save the date on a kraft paper card cut to 3.75″ x 5.75″. For this design we used our Air Mail Save the Date stamp and a black stamp pad. For a step-by-step video tutorial about this printing process go here.
Step Two: To add a pop of color into the design, we mounted our kraft paper card onto a red-orange A6 backer. To do this, simply apply stick glue or double sided tape around the back edges of the kraft paper card. Center it over the A6 red card and press down. If you used glue, let it dry.
Step Three: We're simply swooning over this gorgeous vintage map paper. Each sheet is different so the results are fun and varied. Trace an A6 envelope liner template with a pencil on the back of the map paper and cut out the pattern. Use double sided tape or stick glue to adhere the liner into the mint envelope just below the gumming.
Step Four: We just couldn't stand to waste any little bits map paper so we used the leftovers from the liners in Step 3,  stamped a monogram (we used our Cross my Heart Initials monogram stamp) in black and then cut them out around the design, in a cute heart shape.
Step Five: The last step is to pull it all together! We punched holes on either side of the heart tag so that it would lay flat and straight when we threaded the twine around the save the date. Once that's done, just address your envelopes and add postage so that you can mail them off!
Materials
Stamp Pad in Black
A6 Cards in Persimmon
A6 Envelopes in Mint
Twine in Teal
Double Sided Tape or Stick Glue
Scissors
⅛ inch Hole Punch
Anti­quaria is a mem­ber of the Designer Rolodex – you can see more of their beau­ti­ful work right here or visit the real save the dates gallery for more save the date ideas!
Photography: Antiquaria for Oh So Beautiful Paper
Who doesn't love washi tape? Ever since this awesome product arrived state side, we've been on board. We typically use it to seal envelopes, paper or belly bands but lately, we've had a desire to make it the real star. In this DIY, we use different tapes to add a bit of graphic drama to our stamped save the date cards. The effect you get is so much fun, especially considering it's humble beginnings as tape! – Bailey and Emma of Antiquaria
Each save the date is its own, unique piece of art. The best part is that you can make it as simple or tricked out as you like!
Step One: Before you decorate, you'll need to stamp your save the date (we used our Art Deco Save the Date stamp) on the bottom of a blank, cream A7 card. Choose an ink color that will coordinate nicely with the tape that you've selected. For a step-by-step video tutorial about this printing process go here.
Step Two: Let your creative flag fly! Adorn the top of the card with washi tape in any pattern you like. We used a simple design with straight line and pop of diagonal tape for this example.
Step Three: Next, you'll need to square up the tape so that you have a clean, professional look. Using a straight edge metal ruler and a craft knife, carefully cut the tape, making sure not to press so hard that it cuts the paper as well.
Step Four: Peel off the tape and press down the cut edge. Repeat the process on the top.
There are an infinite amount of possibilities for the tape designs. Get creative and experiment with tape colors and patterns. We love the way that they all look together, so don't feel limited to one design!
Step Five: Next, you'll need to stamp your return address (we used our Art Deco Return Address stamp) on the back flap of your envelopes. Now all that's left is to address them, add postage and send them on their merry way!
Materials:
Stamp Pad in Cocoa
Metal Ruler and Craft Knife
Anti­quaria is a mem­ber of the Designer Rolodex – you can see more of their beau­ti­ful work right here or visit the real save the dates gallery for more save the date ideas!
Photography: Antiquaria for Oh So Beautiful Paper
This week we're fighting off winter blues with a fun and colorful tropical inspired invitation suite! The best part of this design? The awesome fabric inner envelope. As soon as we stumbled on this adorable tutorial on over on Martha Stewart, we were hooked and knew that we need to incorporate the technique into a DIY invitation suite! – Bailey and Emma of Antiquaria
Step One: Over a piece of wax paper, thinly coat a piece of fabric measuring 13.5″ x 14″ with fabric decoupage on front and back. Once both sides are covered, hang the fabric from a pant hanger until dry (see below).
Step Two: Once the fabric is dry, trace an A7 envelope template on the "wrong" side of the fabric with a marker. Using a pair of very sharp fabric scissors, carefully cut out the envelope along the line.
Step Three: Now you'll assemble the envelope. Place a sheet of wax paper approximately 7″ wide in the middle and fold the side flaps over it. Apply decoupage to the lower portion of the side flaps as shown above. Fold up the bottom flap to adhere it to the sides. Paint a thin coat of decoupage along the seams to seal the envelope closed (shown below).
Step Four: Next, you'll emboss the invitation piece. Place your fig A7 card on a stable and firm surface. Ink your invitation stamp (we used our Vintage Calligraphy Invitation stamp) and center it over the card. When ready, press the stamp down with moderate pressure to make the print. Lift the stamp off and quickly move on to adding your embossing powder.
Once you've made your print, immediately cover it with embossing powder by sprinkling it across the card. Shift the powder around until you have covered the entire image. Now, you will pour the excess powder off of the card onto a scrap piece of paper so that you can reuse it for future prints. Heat set the print, using an embossing heat tool. You will be able to see the powder melt into an opaque and solid color when it's done. For more information about how to emboss using stamps, please watch this instructional video.
Note: One key thing about embossing is that it is wise to try to closely match your ink color with your powder color. By doing this, you will get much more crisp and opaque results. For example, we used a white pad with white embossing powder on this invitation.
Step Five: Next, you'll stamp your reply postcard on a 4″ x 6″ cream card. We used our Calligraphy Accent Reply Postcard stamp with eggplant ink.
Step Six: There's no reason to waste the scraps from cutting out the envelopes! We cut them into little 2.5″ squares to use with our monogram tags! The paper tag (in front) is a 2″ square. Once you have both squares cut, layer them on top of one another and punch a hole in the top center of the diamond. Insert a 1/8″ grommet into the hole so that the two pieces hold together.
Stamp your monogram stamp (we used our Antique Monogram stamp) on the tag with the same eggplant stamp pad as we used on the reply postcard.
Step Seven: Now all that's left it to put it all together! We stamped the return address and addressed the outer envelope with turquoise ink for a tonal look. We also wrapped all of the pieces together with teal bakers twine to tie it all together!
Materials
Vintage Calligraphy Invitation Stamp
Calligraphy Accent Reply Postcard Stamp
Fabric cut into 13.5″ x 14″ pieces
Rotary cutter, scissors, and self healing mat
Wax Paper
Decoupage, Paint Brushes, and Pant Hanger
A7 Cards in fig
A7.5 Envelopes in Pool
Cream Cardstock-cut into 4″ x 6″ and 2″ x 2″ pieces
Stamp pads in white, eggplant and turquoise
Embossing Powder, Embossing Heat Tool
1/8″ grommets
Crop-o-dile Tool for hole punching and grommet installation
Bakers Twine in Teal
Photography: Antiquaria for Oh So Beautiful Paper
A handmade gift (or wedding favor) is always such a special way to show someone how much you care. With the holiday season in full swing, we've been brainstorming what handmade gifts to make this year for family and friends (an Antiquaria tradition!). This year, one gift that will be under the tree of all of our loved ones are a set of these patterned journals. They're small enough to be carried around in a handbag which is ideal so that they'll always be there to capture a great idea or quick thought. – Bailey and Emma of Antiquaria
We will be bundling them into sets of three but any quantity would be lovely! Six would be so luxurious for a friend who loves to write or sketch! While the process of making these journals has quite a few steps, they are fast and easy…we promise. You can easily knock out making them for all of your loved ones in a day if you work in an assembly line process!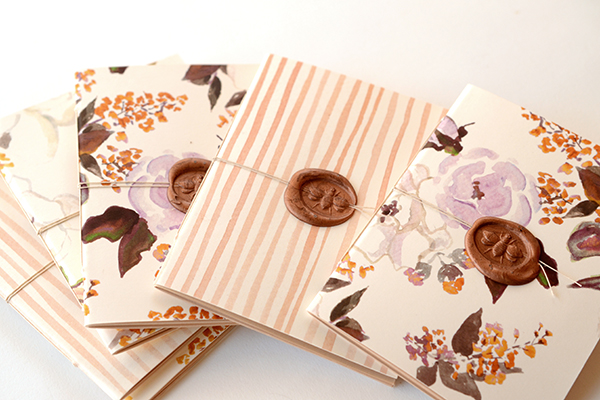 Step 1: First, you will need to cut your cover sheets (we used our "Annabelle Violet" Floral Patterned Paper) and your text interior sheets (we used 4 sheets) to size. For ease, we just cut the 8.5″x11″ into 2 pieces (final measurement 8.5″x5.5″) using a metal ruler, craft knife and self healing mat. This way, there is not any paper waste! This also makes a wonderfully small pocket notebook size.
Step 2: Next, you'll fold both the cover and interior pages in half. In order to make a clean fold on our cover paper we scored it down the center (at the 4.25″ mark). The interior sheets (8 in total) we just folded in half and used a bone folder to make the fold crisp.
Step 3: We will be stitching these notebooks together, so we've got make holes to thread our needle through. Position your ruler over the center fold in the text paper stack. Make marks at 1 inch, 2.75 inches and 4.5inches. We've used a dark pen here so that you can see the dots…but feel free to use a pencil or whatever you have on hand.
Step 4: After you've marked your holes, you will need to punch through them with an awl. Stack your cover and interior pages together before making clean puncher marks though ALL of the sheets. This doesn't take much force. If it helps, you can use binder clips to hold the pages and cover together and keep it straight.
Step 5: Now you're ready to sew! This step contains many sub-steps that go quickly once you get the hang of it. Thread your needle with bookbinding thread. We used approx. 18 inches for each book because it's better to cut off extra than to come up short! If you're having a hard time threading your needle, you can run a little beeswax on the tip to make it stiff and easier to thread through.
Step 5a: Thread your needle through the center hole on the outside of your journal as shown above. Pull through, leaving a tail that is approximately 6 inches long.
Step 5b: Now sew through the top hole in the inside of the journal as shown above. Make sure you still have your 6″ tail on the outside and you don't pull it through!
Step 5c: Next, you'll bring your needle down and sew through the bottom hole on the outside of your journal.
Step 5d: Now, you'll sew through the center hole once more, ending up on the outside cover.
Step 5e: Once you've pulled your thread through the center a second time, you can take your needle off of the thread. Make sure that there is one thread end on either side of the spine thread (the one that's down the center).
Step 5f: Pull your thread taught (not too hard or you'll rip the paper) making sure that there is no slack on the outside or inside of the journal. Loop one thread under the other into a knot to tie off the binding.
Step 6: Now we decorate! Instead of having loose string on the binding or tying it into a bow, we decided to secure it with sealing wax! Pull your two binding threads across the center front of the journal. Drip hot wax (we use a wax formulated for a glue gun-for ease) in the center over the threads (see above). Using your wax seal of choice, press it into the hot wax until it cools and releases (see below). Trim off and make the thread ends even, if desired.
Step 7: We're not going to lie… this may be the trickiest step out of the whole process! Once the journal is finished and  folded, you'll need to make the edges of the book even so that they're crisp and clean, like the journals that you buy in a store. The trick to this is using a REALLY sharp, new blade on your craft knife. If you're making a lot of these journals, you may need to change your blade more than once!
Line up your ruler with the edge of your front cover. Make sure that all of your pages and the back cover are flat and pressed down (we kinda lean on the whole journal and ruler at the same time so that it doesn't shift). Now, start trimming off the excess. It will take a few passes but will eventually be a clean, straight edge!
Et voila! Now your journal is finished and ready to give! We guarantee that your loved ones will cherish these little pretties for years to come. They may even ask for them year after year.
Materials
"Annabelle"  Patterned Paper, in Cover
"Annabelle Violet"  Patterned Paper, in Cover
"Watercolor Stripe" Coral Patterned Paper, in Cover
Text Paper for interior pages
Metal Ruler, Self Healing Mat and Craft Knife
Scoreboard
Needle
Sealing Wax and Glue Gun
Scissors
Beeswax (optional)
Photos: Antiquaria for Oh So Beautiful Paper